Patient Fact Sheets

Print and distribute these easy-to-read fact sheets to patients to help them understand their health concerns. Our goal is to provide you with resources to foster communication with your patients.
---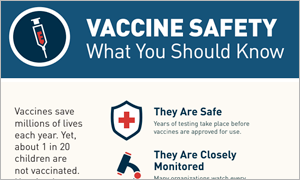 Vaccine Safety Guidelines & Facts
Immunizations save millions of lives each year. Yet, there are skeptics who do not believe they are safe or efficacious. This fact sheet may encourage skeptical and anti-vaccine patients to reconsider.
Loading...
Loading...