Influenza Information Center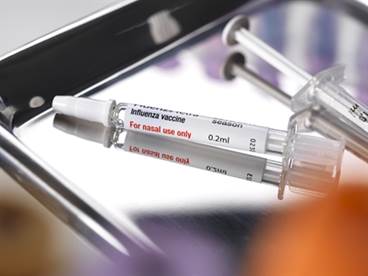 After adjustment for confounders, vaccine linked to lower all-cause, cardiovascular death.
News

For women who are pregnant, influenza vaccines may moderately protect against laboratory-confirmed influenza-associated hospitalization.
News

The CHEST Expert Cough Panel agreed on cough, dyspnea, pleural pain, sweating, shivers, aches, temperature of ≥38°C, tachypnea, and new and localizing chest examination signs as clinical symptoms as criteria suggestive of pneumonia in outpatient adults.
News

"This is the first new antiviral flu treatment with a novel mechanism of action approved by the FDA in nearly 20 years," said FDA Commissioner Scott Gottlieb, MD.
Healthday

Prior-season vaccination is not associated with reduced vaccine effectiveness among children aged 2 to 17 years.
News

Research results indicated vaccination rates declined as clinic day progressed and that active choice intervention was linked with increased vaccinations.
Healthday

Larger cities with higher base transmission potentials have more diffuse influenza epidemics.
News

Wide variations in influenza vaccine coverage have been noted across healthcare personnel based on occupation and worksite.
News

Influenza vaccination rates decline as the clinic day progresses.
Healthday

2017 to 2018 flu strains hit the very young and elderly especially hard; poor vaccine/strain match-up.