February 22, 2015
Is empathy the best practice for poor outcomes?
the Clinical Advisor take:
After an unfavorable outcome, clinicians who respond to their patients and families with empathy and open disclosure can help prevent lawsuits.
Currently, 36 states have apology laws for providers, which prevent expressions of sympathy and sometimes admissions of fault from being admissible in court. Experts believe that these laws can help providers feel more comfortable in expressing sympathy, but ultimately a law is not needed to help providers interact with their patients after poor outcomes.
Doug Wojcieszak, owner of the advocacy group Sorry Works, began coaching doctors after his brother died from a medical error. Wojcieszak encourages clinicians and hospitals to take several steps in the wake of a problem. He suggests apologizing, conducting a review to determine what went wrong, refrain from assigning blame, and stay connected with the family.
After the review has been conduced, clinicans should have a clear conversation with the family about what happened. If a mistake occurred, compensation should be offered. Even if the patient or family does decide to sue, assuming accountability and offering compensation reflects positively on the doctors and hospital.
Timothy McDonald, MD, JD, a physician-attorney, notes that not all patient harm is due to errors. Nevertheless, doctors should exercise compassion and be open with the family about what happened.
However, it is important for doctors to avoid speculating about what went wrong. Richard C. Boothman, JD, implores clinicians to wait until they have the facts before telling the family what happened. Once a provider insinuates blame, it can be difficult for families to blame someone or something else. Boothman recommends that doctors contact the Office of Clinical Safety team who can coach doctors in mediation techniques.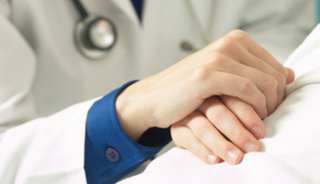 Is empathy the best practice for poor outcomes?
Thirty-six states have "apology laws" that prohibit certain statements or expressions of sympathy by a physician from being admissible in a lawsuit.
Experts in the field say that while the laws may help some physicians feel more comfortable about expressing empathy, they aren't really necessary to avoid lawsuits. Instead, good patient-physician relationships and open disclosure are the keys to responding successfully to a bad outcome.
Apology laws are designed to encourage compassion in the wake of a bad medical outcome, instead of the old paradigm of physicians and hospital being evasive and running for cover.
Next Article in My Practice