December 21, 2018
Epilepsy, Sleep Apnea, and SUDEP: A Closer Look
This article originally appeared
here.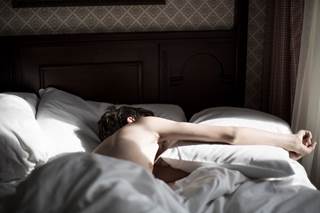 The comorbid presence of central apnea has been identified by multiple researchers as predictive of SUDEP.
Sleep disorders have been reported frequently in patients with epilepsy, in what Derry and Duncan1 refer to as an "intimate relationship." The researchers have observed a closely interactive pattern whereby physiological sleep mechanisms trigger seizure activity, whereas epileptic attacks and medications interfere with sleep quality, quality of life, and neuroendocrine function.1 Sleep apneas are the most frequently comorbid sleep condition in epilepsy, with obstructive sleep apnea (OSA) specifically found in as many as 30% of patients with epilepsy.2 The combined effect of these 2 conditions is believed to be a significant contributor to high mortality among children and young adults.1-5
Sudden unexpected death in epilepsy (SUDEP) has an estimated incidence rate of 1.16 cases per 1000 patients with epilepsy. Young people are most at risk for SUDEP, which is second only to stroke in burden of potential life-years lost.6
The underlying mechanisms appear complex and are not well understood, but data amassed in recent years from epilepsy monitoring units have provided video-electroencephalogram (EEG)-telemetry evidence of respiratory disturbances during sleep that result in SUDEP and near-SUDEP events.3
According to Erik K. St. Louis, MD, co-director of the Center for Sleep Medicine, Department of Neurology and Department of Medicine, Mayo Clinic, Rochester, Minnesota, "There is increasing evidence from the pivotal MORTEMUS study2 and other recent evidence from recorded seizures in the epilepsy monitoring unit setting that the premortal sequence in the pathway to SUDEP may involve a nocturnal generalized convulsive seizure, followed by postconvulsive central apnea and asystole. Primary or associated cardiac mechanisms could also contribute."
The MORTEMUS study reported 16 cases of SUDEP and 9 cases of near-SUDEP from a retrospective cohort study of 147 epilepsy monitoring units across Europe, Israel, Australia, and New Zealand, at which an estimated 133,788 video EEGs were performed. Many of the patients who experienced SUDEP or near-SUDEP were noted to be lying face-down and appeared to die without struggle.2 Dr St. Louis explained: "The link with prone position with SUDEP appears to be quite strong, probably due to inadequate brain arousal in the setting of postictal hypercapneic respiratory insufficiency."
In a 2014 review, Massey and colleagues7 proposed a mechanism that begins with seizure activation of midbrain and medullary neurons that inhibit messaging to both the cardiovascular and respiratory systems, just as cortical activity is suppressed, leading to failure of the ascending arousal system and postictal generalized EEG suppression. Hypoventilation occurring simultaneously during the seizure produces postictal hypercapnia and hypoxia that result in bradycardia, asystole, and death.
One of the most prominent features of sleep apnea associated with epilepsy is a decrease in normal heart rate variability, which is associated with increased risk for myocardial infarction and life-threatening arrhythmias.4
Serotonin mechanisms have also been implicated in SUDEP in several ways, through decreased respiratory output that both lowers seizure threshold and increases risk for respiratory depression and sudden death. A number of studies have looked at the influence of seizure-induced serotonin 5-hydroxytryptamine inhibition in the impairment of hypercapnic arousal mechanisms, which have been suggested to predispose individuals to SUDEP.
Biomarkers for SUDEP Events
The comorbid presence of central apnea has been identified by multiple researchers as predictive of SUDEP.8 "The combination of postconvulsive central apnea and asystole in the postictal state following generalized convulsive seizures has been linked to the EEG SUDEP risk marker of [postictal generalized EEG suppression], suggesting postconvulsive central apneas may be mediated by an excessive inhibitory drive of the brain following convulsive seizures, and/or inadequate brain arousal," Dr St. Louis said. "The combination of postconvulsive central apnea and asystole may be an antemortem marker for SUDEP risk."
Studies led by Stewart5 were able to replicate in rats the sequence of events outlined by the MORTEMUS study (postictal apnea, bradycardia, and asystole), producing EEG artifacts in these animals that mirrored actual breaths, which could be used to mark preictal events.
Sleep monitoring of patients with comorbid epilepsy and OSA has been investigated as a means of intervention. Dr St. Louis pointed with interest to a recent paper that he noted "suggested that the intensity of nocturnal monitoring or supervision (in terms of seizure detection devices, auditory or bed movement alert systems, and improved caregiver and nursing staff ratios) for observation of residential patients with epilepsy may lower SUDEP risk, so improved residential and at-home patient monitoring capabilities and monitoring devices for seizure detection that enable rapid seizure first aid, including peri-ictal interventions to improve arousal and restore ventilation in the postictal state rapidly, also hold promise for future SUDEP prevention."
He added, "Recent evidence from our group has also suggested a possible association between interictal (between seizure) OSA and SUDEP risk, possibly due to neurocirculatory instability associated with OSA that could modulate risk for SUDEP. OSA is a frequent comorbidity in refractory epilepsy patients at greatest risk for SUDEP, so this potential association between OSA and SUDEP requires further research."
References