March 31, 2015
Enterovirus D68 may be linked to polio-like paralysis in kids
the Clinical Advisor take:
A new strain of enterovirus D68 may be responsible for polio-like paralysis in 115 children in 34 states since August 2014, study findings indicate.
"Enterovirus D68 was implicated in a widespread outbreak of severe respiratory illness across the United States in 2014 and has also been reported sporadically in patients with acute flaccid myelitis," wrote Alexander L. Greninger, MD, of the University of California San Francisco, and colleagues in The Lancet Infectious Diseases.
To investigate the association between the enterovirus D68 infection and acute flaccid myelitis during the 2014 enterovirus D68 respiratory outbreak in the United States, the investigators examined data from 48 children. The study participants had had acute flaccid myelitis (n=25); enterovirus-associated encephalitis (n=2); enterovirus-D68-associated upper respiratory illness; and aseptic meningitis or encephalitis and tested positive for enterovirus (n=16).
Enterovirus D68 was detected in respiratory secretions from seven (64%) of 11 patients comprising two temporally and geographically linked acute flaccid myelitis clusters at the height of the 2014 outbreak, and from 12 (48%) of 25 patients with acute flaccid myelitis overall.
Phylogenetic analysis revealed that all enterovirus D68 sequences associated with acute flaccid myelitis grouped into a clade B1 strain that emerged in 2010. Deep metagenomic sequencing of cerebrospinal fluid from 14 patients with acute flaccid myelitis did not reveal evidence of an alternative infectious cause to enterovirus D68.
"These findings strengthen the putative association between enterovirus D68 and acute flaccid myelitis and the contention that acute flaccid myelitis is a rare yet severe clinical manifestation of enterovirus D68 infection in susceptible hosts."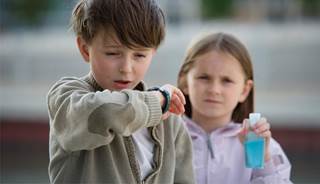 Enterovirus D68 may be linked to polio-like paralysis in kids
Next Article in News
2018 Upcoming Meetings
Sign Up for Free e-newsletters