November 04, 2014
Experts comment on Ebola quarantines and the law
the Clinical Advisor take:
A panel of experts weighed on the public health and legal repercussions that could result from bringing the issue of quarantining of asymptomatic Ebola healthcare workers to the legal system, according to a report published in MedPage Today.
The panel, which included a mix of legal experts and healthcare professionals, looked at the issues through the lens of public health, legal precedents, and how the courts may get involved.
The panel included Ike Z. Devji, JD, attorney of counsel, Davis Miles McGuire Gardner, and executive vice president, The Wealthy 100 in Phoenix, Ariz.; Joseph McCormick, MD, regional dean, The University of Texas School of Public Health Brownsville Regional Campus, part of the UT Health Science Center at Houston; Maxwell J. Mehlman, JD, professor of bioethics, professor of law, Case Western Reserve University in Cleveland; Rachel V. Rose, JD, MBA, Attorney at Law, in Houston; and Torrey K. Young, JD, associate, Foley & Lardner, in Boston.
For the public health factor, Dr. McCormick and Mehlman agreed that any decision a court makes about Ebola quarantine must be science driven. Devji said that requiring the judicial process in order to quarantine an individual poses a significant public health risk, arguing that those who work with Ebola should be aware of the risks and potential for quarantine.
From a legal precedent standpoint, Mehlman said that the public health powers of the government are subject to limitations under the Constitution. However, Young noted that historically, courts have not interfered with the exercise of quarantine powers unless they were arbitrary, oppressive, and unreasonable.
If the courts do get involved, Rose believes that they would probably use a balancing test: an individual's right of detainment versus the public's health. Young said that under the Federal PHS Act, courts may enjoin individuals from violation of CDC quarantine regulations.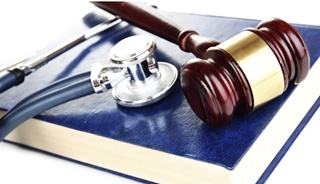 Experts comment on Ebola quarantines and the law
This week, we take a look at the subject of courts getting involved with healthcare issues, such as the Supreme Court's 1973 Roe v. Wade decision legalizing abortion, or the the current controversy over quarantines of asymptomatic healthcare workers who had contact with Ebola patients. We e-mailed legal experts and a diverse group of healthcare professionals and asked:
How might it affect public health if the courts got involved in the Ebola quarantine issue, and should the courts be involved?
Next Article in News
2018 Upcoming Meetings
Sign Up for Free e-newsletters