December 01, 2014
Hand-off system reduces medical errors, preventable adverse events
the Clinical Advisor take:
Health-care providers trained with a hand-off plan saw a 23% decrease in medical errors and a 30% drop in preventable adverse events, reported MedPage Today.
"Miscommunications are a leading cause of serious medical errors," wrote Amy J. Starma, MD, MPH, of Boston Children's Hospital in Boston, and colleagues in The New England Journal of Medicine.
"Data from multicenter studies assessing programs designed to improve hand-off of information about patient care are lacking."
To determine the impact of a more rigorous hand-off plan, the investigators conducted a prospective intervention study in nine hospitals, measuring rates of medical errors, preventable adverse events, and miscommunications.
Error rates were measured through active surveillance. Hand-offs were assessed by means of evaluation of printed hand-off documents and audio recordings.
To help providers recall the pieces of information needed at the time of hand-off, the researchers used the mnemonic I-PASS, which stands for:
I: Illness severity
P: Patient summary
A: Action list
S: Situational awareness of contingency plan
S: Synthesis by receiver
Beyond training providers on I-PASS, the researchers set up a two-hour workshop to teach teamwork and communication; a one-hour role play and simulation exercise; a computer module for independent learning; a faculty development program; direct observation tools for feedback; and a process- and culture-change campaign.
In 10,740 patient admissions, the medical-error rate decreased by 23% from the preintervention period to the postintervention period (24.5 versus 18.8 per 100 admissions, P<0.001). The rate of nonpreventable adverse reactions did not change significantly, noted the scientists. The rate of preventable adverse events decreased by 30% (4.7 vs. 3.3 events per 100 admissions, P<0.001).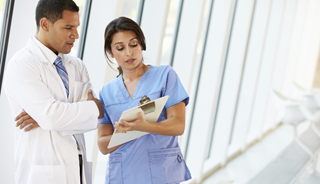 Hand-off system reduces medical errors, preventable adverse events
A rigorous clinical hand-off protocol taught to medical residents for use at hospital shift changes led to a 23% decrease in medical errors and a 30% decrease in preventable adverse events, a study has concluded.
The hand-off improvement plan involved a mnemonic to standardize oral and written hand-offs, a faculty development program, training for the residents, and a sustainability campaign.
The study was conducted at nine pediatric residency training programs in the U.S. and Canada. The total study period was 18 months, consisting of 6 months each of pre-intervention outcomes assessment (to establish a baseline), implementing the intervention, and post-intervention data collection.
Next Article in News
2018 Upcoming Meetings
Sign Up for Free e-newsletters