October 17, 2014
Learning from mistakes in Texas Ebola cases
the Clinical Advisor take:
Two Texas nurses have contracted Ebola after treating an infected patient, and U.S. health care workers are taking precautions to prevent the same mistakes, according to a report from MedPage Today.
Two nurses have now contracted the disease; both were part of the team that treated the first U.S. Ebola patient, Thomas Eric Duncan, at Texas Health Presbyterian Hospital. Both nurses are being transferred to outside facilities for care, with Nina Pham, RN, going to the NIH clinical center in Bethesda, Md., and Amber Vinson going to Emory University Hospital in Atlanta.
The two nurses have described a different version of events than Texas Health Presbyterian, but the hospital continues to refute any accusations of improper CDC protocol that the nurses claim took place. Still, criticisms against the hospital continue to mount.
Additionally, one of the nurses was visiting family and friends in Ohio from Oct. 10 through 13, after treating Duncan. A day before Vinson's Ebola diagnosis was confirmed, she flew on a commercial airline from Ohio to Texas. At the time, she had a temperature of 99.5° F; when she consulted the CDC, they told her she could board the plane.
The CDC says a fever of 101.5° F is considered the tipping point for Ebola, but some hospitals are conflicted over the criteria in the case of health care workers who have potentially been exposed to the disease. Because an Ebola fever can rise rapidly, infectious disease specialists suggest monitoring any changes in the baseline body temperature in people with potential virus exposure.
Other states are learning from Texas, and they are taking extra steps towards preparedness for potential Ebola cases. Nurse organizations such as the American Nurses Association, American Association of Critical-Care Nurses, and the Health Professionals and Allied Employees are working to ensure that health care professionals have the most up-to-date protocols.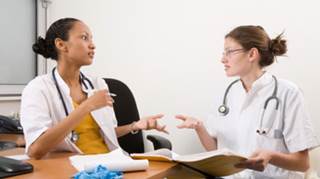 Learning from mistakes in Texas Ebola cases
As officials from Washington to Atlanta to Dallas sift through the rapidly changing flow of information regarding treatment of Ebola in the U.S., the first Dallas nurse infected with Ebola will be transferred to a high-level treatment center in Bethesda, Md.
Nina Pham, RN, 26, will be cared for at the NIH clinical center, Anthony Fauci, MD, director of the National Institute of Allergy and Infectious Diseases told a subcommittee of the House Energy and Commerce Committee. Fauci said the transfer was to give Pham "state of the art care" in a facility with high-level isolation capabilities and critical care specialists.


Next Article in News
2018 Upcoming Meetings
Sign Up for Free e-newsletters