September 02, 2014
Low-carb diet better than low-fat for CVD
the Clinical Advisor take:
Increasing fat intake while cutting out carbohydrates may lower patients' risk of cardiovascular disease and spur greater weight loss, according to The New York Times.
The 'no-carb' diet approach, known as the Atkins Diet, has received criticism from health providers for its focus on foods high in saturated fat, which can increase heart disease risk.
To examine the effects of a low-carbohydrate diet compared with a low-fat diet on body weight and cardiovascular risk factors, Lydia A. Bazzano, MD, PhD, MPH, of Tulane University in New Orleans, Louisiana, and colleagues conducted a parallel-group trial.
Patients were assigned a low-carbohydrate (<40 g/day) or low-fat (<30% of daily energy intake from total fat, <7% saturated fat) diet. Of the 148 participants, 82% in the low-fat group and 79% in the low-carbohydrate group completed the trial.
At 12 months, participants on the low-carbohydrate diet had greater decreases in weight (mean difference in change, -3.5 kg, 95% CI: -5.6 to -1.4kg; P=0.002), fat mass (mean difference in change, -1.5%, 95% CI, -2.6% to -0.4%; P=0.011), and ratio of high-density lipoprotein (mean difference in change, -0.44; 95% CI: -0.71 to -0.16; P=0.002). The results were published in The Annals of Internal Medicine.
Although the research suggests cutting carbohydrates may influence greater weight loss, patients may be better off watching their processed food intake.
"Health authorities should pivot away from fat restrictions and encourage people to eat fewer processed foods, particularly those with refined carbohydrates," wrote Anahad O'Connor of The New York Times.
Patients on a restricted low-carbohydrate diet lost more weight, fat mass, and ratio of LDL compared with a low-fat diet.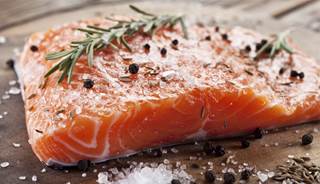 High-fat beats high-carb diet for cardiovascular health
People who avoid carbohydrates and eat more fat, even saturated fat, lose more body fat and have fewer cardiovascular risks than people who follow the low-fat diet that health authorities have favored for decades, a major new study shows.
The findings are unlikely to be the final salvo in what has been a long and often contentious debate about what foods are best to eat for weight loss and overall health. The notion that dietary fat is harmful, particularly saturated fat, arose decades ago from comparisons of disease rates among large national populations.
Next Article in News
2018 Upcoming Meetings
Sign Up for Free e-newsletters