September 27, 2014
Physician assistants vital contributions highlighted in new report
the Clinical Advisor take:
Physician assistants' (PAs) contributions to the health-care industry were highlighted in a report released by the National Governors Association (NGA).
"Because of the flexibility, adaptability, and cost-effectiveness of PAs, the profession can play a critical role in the delivery system transformation, and in particularly, the provision of more integrated, team-based care," wrote the NGA.
From 1991 to 2010, the number of practicing PAs grew from 20,000 to about 75,000. The agency reports than 95,000 PAs currently practice in the United States.
Among the accolades the profession received, PAs' role in increasing health-care access to rural populations was emphasized. "In specialty care, PAs make up a significant percentage of staff practicing in rural hospitals," noted the NGA.
Although PAs were credited with providing primary-care services amidst the ongoing physician shortage, the agency reported that the number of PAs working in primary care decreased from 70% to 34% between 1974 and 2012.
"States should be cognizant of economic incentives and other factors that may undermine efforts to use PAs to address workforce shortages, particularly in primary care and in rural communities," wrote the NGA.
The report stressed that states should address statutory and regulatory frameworks that hinder growth of the PA profession.
"States seeking to enable PAs to practice to their full extent of their abilities could review their current statutes and regulations to ensure that the definition of provider under the law and in regulation is broad enough to encompass the professional competencies of PAs," suggested the agency.
As the profession grows, states need to focus on how to best use PAs and craft laws that reflect their unique contribution to the national health-care system.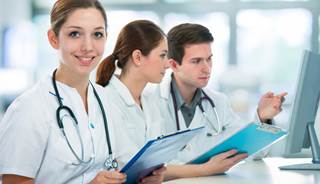 Physician assistants improve access to health-care
The American Academy of Physician Assistants welcomes a new report from the National Governors Association (NGA) that highlights the important—and rapidly growing—role of physician assistants (PAs) in the U.S. healthcare workforce. The 15-page report, titled "The Role of Physician Assistants in Health Care Delivery," is now available for download at the NGA website.
"When PAs are allowed to practice medicine under laws and regulations that embrace their experience and rigorous education, patients have improved access to the care they need when they need it," said John McGinnity, MS, PA-C, DFAAPA, AAPA president. "We thank the NGA for helping to articulate to governors and legislators the value that PAs have to patients and the healthcare system when authorized to practice medicine at the top of their medical license.
Next Article in News
2018 Upcoming Meetings
Sign Up for Free e-newsletters