April 07, 2015
Providers reluctant to prescribe pre-exposure prophylaxis
the Clinical Advisor take:
Health-care providers are hesitant to prescribe pre-exposure prophylaxis to patients at high risk of developing HIV, results of a survey published in HIV Specialist suggest.
The rate of new HIV infections in the United States has held steady at 50,000 new cases per year, according to the researchers. Men who have sex with men, those who inject drugs, and patients who engage in risky sexual behavior are considered high-risk patients.
The investigators surveyed members of the American Academy of HIV Medicine about their attitudes towards PrEP guidelines. Of the 324 members, most of whom are HIV-specializing practitioners, less than half reported being "very likely" to prescribe PrEP to their at-risk patients, including those who are high-risk heterosexuals or use intravenous drugs.
"That's concerning, because these groups are among the prime candidates for PrEP according to the guidelines," said Leah M. Adams, PhD, a research fellow at Group Health Research Institute in Seattle, Washington, in a press release.
"HIV-negative men in 'serodiscordant' couples were the most likely group to be prescribed PrEP in our sample," said Benjamin Balderson, PhD, a Group Health psychologist and Group Health Research Institute research associate.
"But that still leaves 21% of respondents who were not very likely to prescribe PrEP even to people in this group. Academy members are likely very aware of the indications for thinking about PrEP in this population, but something is still making them reluctant to prescribe."
Providers reported they were hesitant to prescribe PrEP for several reasons, including the side effects, cost of treatment, and the effectiveness of PrEP in preventing HIV.
"Our findings emphasize that health care providers need ongoing education and guidance about how to deal with practical issues associated with prescribing PrEP," noted Adams.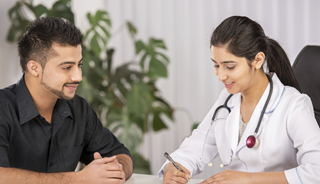 Providers reluctant to prescribe pre-exposure prophylaxis
SEATTLE — Many health care providers across the United States may be reluctant to prescribe an increasingly important prevention approach to some of their patients who are at substantial ongoing risk for HIV.
The quarterly HIV Specialist magazine of the American Academy of HIV Medicine published these survey results: "Providers' Perspectives on Prescribing Pre-exposure Prophylaxis for HIV Prevention."
Pre-exposure prophylaxis (PrEP) involves proactively prescribing a regimen of an HIV antiviral medication to people who do not have HIV. The medication helps prevent HIV from establishing itself and multiplying in the body.
Next Article in News
2018 Upcoming Meetings
Sign Up for Free e-newsletters