September 09, 2014
Vancomycin prophylaxis may reduce C. diff recurrence
the Clinical Advisor take:
Prophylaxis with an oral suspension formulation of vancomycin (Vancocin) may protect at-risk patients from recurrent Clostridium difficile infection, according to research presented at the Interscience Conference on Antimicrobial Agents and Chemotherapy in Washington, D.C.
To determine if secondary prophylaxis with oral vancomycin influenced the incidence of recurrent C. difficile infection in high-risk patients, Alex Bryant, PharmD, of Mercy Hospital in St. Louis, Missouri, and colleagues conducted a retrospective review.
Patients aged 65 years and older who have been hospitalized for another illness or surgery that required antibiotic therapy, or who have been exposed to immunosuppressive treatments or illnesses, are considered to be at high-risk for C. difficile recurrence, noted the researchers.
From January 2010 to December 2012, 203 patients that had a positive C. difficile polymerase chain reaction test and symptoms of infection were followed. Data were collected on age, gender, race, and gastrointestinal (GI) suppression use. Patients were assigned to receive 125 mg of prophylactic vancomycin twice per day.
Researchers measured the absolute difference in the rate of high-risk patients who developed C. difficile infection during or within the first four weeks after finishing antibiotic therapy with and without prophylactic oral vancomycin.
Only 1% of patients in the vancomycin prophylaxis group experienced C. difficile reccurence compared with 37% of those who did not (P=0.0001). Results from a subanaylsis indicated oral vancomycin prophylaxis benefited patients aged 65 years and older (P=0.003), as well as those who underwent GI suppression at home (P=0.0002) and in hospital (P=0.0001).
Favorable significance of the oral prophylactic with vancomycin for minopenicillins, fluoroquinolones, aztreonam, vancomycin, cephalosporins, and the combination of vancomycin/piperacillin-tazobactam/levofloxacin was reported by the investigators.
Further research, including a prospective study, is needed to determine any specific adverse events with the use of the treatment, wrote the researchers.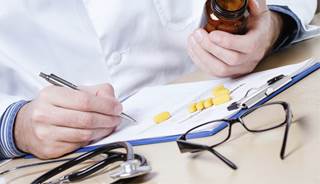 Vancomycin may reduce C. diff recurrence
WASHINGTON -- Prophylaxis with oral vancomycin (Vancocin) appeared to protect at-risk patients from experiencing a recurrence of Clostridium difficile infection, researchers reported here.
In a retrospective review of cases, one of 71 patients (1%) given prophylaxis with oral vancomycin, paired with antibiotic therapy, experienced recurrence of C. difficile compared with 35 (37%) out of 132 patients not given the prophylaxis (P<0.001), said Nicholas Van Hise, PharmD, from the University of Indiana Medical School in Indianapolis, and colleagues.
"It doesn't taste real great, but patients tolerate it, because they would rather have the drug than another bout of C. difficile," co-author Alex Bryant, PharmD, from Mercy Hospital St. Louis, told MedPage Today.
Next Article in News
2018 Upcoming Meetings
Sign Up for Free e-newsletters