April 09, 2015
Weight concerns may keep females from quitting smoking
the Clinical Advisor take:
Weight-related concerns may be keeping female smokers from quitting, findings published in Tobacco Control indicate.
Despite a lack of scientific evidence backing smoking as an effective weight control method, "it is often regarded as a means of losing weight," explained Ce Shang, PhD, of the University of Illinois at Chicago, and colleagues.
"While it is important to inform the public that smoking as a weight control method is indeed ineffective, little is known about whether weight concerns may attenuate the effectiveness of tobacco control policies in reducing smoking."
To investigate whether smokers who believe that smoking helps control weight are less responsive to tobacco control policies with regards to quitting compared with those who do not, the scientists conducted a longitudinal study using survey data from about 10,000 smokers in the United States, Canada, and United Kingdom.
For female smokers who did not believe that smoking helps control weight, a 10% increase in cigarette price was associated with a 6% rise in cessation attempts. Women who thought smoking does help control weight did not significantly increase their attempts to quit in response to a price increase.
Although a 10% increase in exposure to anti-smoking campaigns was associated with a 12% in cessation attempts among patients who did not believe smoking helped control weight, no increase in quit attempts were reported by those who did hold that belief.
"Since we found that weight concerns do in fact attenuate policy responsiveness in certain populations, policy makers should take this into account and alleviate weight concerns to enhance the effectiveness of existing tobacco control policies on promoting quit attempts and reducing smoking," concluded the study authors.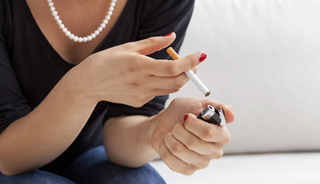 Weight concerns keep females from quitting smoking
Women who believe smoking helps them manage their
weight
are less likely to try quitting in response to anti-smoking policies than other female smokers in the U.S.
The study, published online in the journal Tobacco Control, is the first to find that smokers who are concerned about their weight are less swayed by anti-smoking policies — such as bumps in cigarette prices, smoke-free laws or anti-tobacco messaging — than other smokers are.
"We found that concerns about weight are a significant barrier to quitting," says lead author Ce Shang of the University of Illinois at Chicago, "among U.K. smokers and U.S. female smokers who believe smoking helps them manage weight."
Next Article in News
2018 Upcoming Meetings
Sign Up for Free e-newsletters