March 10, 2016
Body fat percentage, physical fitness are better predictors of mortality and diabetes risk than BMI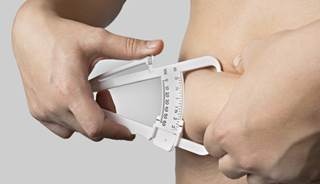 Body fat percentage is a better predictor of all-cause mortality than BMI.
Body fat percentage and physical fitness are superior to body weight for predicting the risk of developing type 2 diabetes and all-cause mortality, according to 2 studies published in the Annals of Internal Medicine.
One study showed that increased body fat percentage was associated with a higher risk of all-cause mortality, regardless of BMI. In another study, researchers found that young people who are not physically fit have an increased risk of developing type 2 diabetes later in life, regardless of body weight.
The first study, led by Raj Padwal, MD, MSc, included 49,476 women and 4,944 men aged ≥40 years who had been referred for bone mineral density testing. During a median of 6.7 years, 4,965 women died, and over a median of 4.5 years, 984 men died.
Using fully adjusted mortality models that included BMI and body fat percentage, the researchers found that high body fat percentage and low BMI were associated with increased mortality in women and men.
Previous mortality studies had linked elevated BMIs to higher survival, but Dr Padwal and colleagues noted that these studies did not take adiposity directly into account.
"Body mass index is widely used as a proxy for adiposity even though it more closely reflects lean mass than fat mass," the researchers wrote. "Increasing BMI may therefore reflect higher fitness levels, greater metabolic reserve, and less cachexia — factors that are associated with greater survival — rather than increasing fat."
The second study, led by Casey Crump, MD, PhD, included 1,534,425 male military conscripts from 1969 to 1997 with no prior diagnosis of type 2 diabetes. Every participant was aged 18 years at the time of the examination. Aerobic capacity was measured in watts, and muscle strength was measured in newtons per kilogram of body weight.
During 39.4 million person-years of follow-up, 34,008 participants (2.2%) were diagnosed with type 2 diabetes. Both low aerobic capacity and muscle strength were independently associated with an increased risk of developing type 2 diabetes. After 20 years of follow-up, the absolute difference in cumulative incidence of type 2 diabetes between the lowest and highest tertiles of aerobic capacity and muscle strength was 0.22%; this increased to 0.76% at 30 years and 3.97% at 40 years. The combination of low aerobic capacity and low muscle strength had the highest associated risk for type 2 diabetes (hazard ratio 3.07), even among participants with normal BMIs.
"The study by Crump and colleagues fills an important research gap by demonstrating a strong inverse association between physical fitness at a young age and long-term risk for type 2 DM, independent of weight status," said Peter T. Katzmarzyk, PhD, in a related commentary. "The enhancement of cardiorespiratory and muscular fitness through habitual physical activity in all persons should be recommended as a front-line therapy to address the public health burden of type 2 DM."
References
Padwal R, Leslie WD, Lix LM, et al. Relationship among body fat percentage, body mass index, and all-cause
Crump C, Sundquist J, Winkleby MA, et al. Physical fitness among Swedish military conscripts and long-term risk for type 2 diabetes mellitus: a cohort study. Ann Intern Med. Published online 8 March 2016. doi:10.7326/M15-2002.
Katzmarzyk PT. Physical fitness and risk for type 2 diabetes mellitus: reducing risk at any weight. Ann Intern Med. Published online 8 March 2016. doi:10.7326/M16-0269.