March 07, 2017
USPSTF: evidence insufficient for pelvic exams in asymptomatic nonpregnant women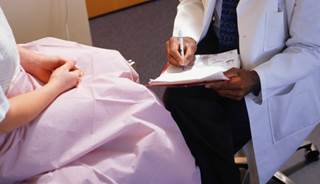 According to the USPSTF, current evidence is insufficient to evaluate the benefits or harms of screening asymptomatic women for various gynecologic conditions.
Current evidence is insufficient to assess the benefits and harms of pelvic examination screening in asymptomatic, nonpregnant adult women, according to a USPSTF recommendation statement published in JAMA.
The task force commissioned a systematic review to analyze all evidence regarding screening pelvic examinations in asymptomatic, nonpregnant adult women aged 18 years and older. The review focused on asymptomatic gynecologic conditions that are commonly identified as reasons for conducting the screening pelvic examination, conditions for which the detection of early-stage disease in asymptomatic patients is biologically and clinically plausible, and conditions for which another method of screening is not already addressed by a current USPSTF recommendation.
The USPSTF concluded that "the current evidence is insufficient to assess the balance of benefits and harms of performing screening pelvic examinations in asymptomatic, nonpregnant adult women. This statement does not apply to specific disorders for which the USPSTF already recommends screening (ie, screening for cervical cancer with a Papanicolaou smear, screening for gonorrhea and chlamydia)."
Editorial comments
In an accompanying editorial, Colleen McNicholas, DO, and Jeffrey F. Peipert, MD, PhD, wrote, "Even though the USPSTF determined that the available evidence was insufficient to support or refute the annual pelvic examination in asymptomatic, nonpregnant women, it is not clear that the pelvic examination should be abandoned. Women, as patients, should be involved in the decision regarding whether to perform a pelvic examination, and clinicians should not require that the patient undergo this procedure to obtain screening, counseling, and age-appropriate health services."
In a second related editorial published in JAMA Internal Medicine, George F. Sawaya, MD, commented, "The USPSTF has finalized its recommendation statement regarding periodic screening with the pelvic examination, and it is both unusual and remarkable. It is unusual because the USPSTF typically does not make recommendations about a test separate from a specific health condition. It is remarkable in that it finds the evidence insufficient to assess the balance of benefits and harms of performing screening pelvic examinations in asymptomatic women—a conclusion in direct contrast to that of 2 other high-profile professional societies: the American College of Physicians (ACP) and the American Congress of Obstetricians and Gynecologists (ACOG)."
References
US Preventive Services Task Force. Screening for gynecologic conditions with pelvic examination: US Preventive Services Task Force recommendation statement. JAMA. 7 March 2017. doi:10.1001/jama.2017.0807
McNicholas C, Peipert JF. Is it time to abandon the routine pelvic examination in asymptomatic nonpregnant women? JAMA. 7 March 2017. doi:10.1001/jama.2017.0899
Sawaya GF. Screening pelvic examinations: the emperor's new clothes, now in 3 sizes? JAMA Intern Med. 7 March 2017. doi:10.1001/jamainternmed.2017.0271