July 10, 2016
Chest pain in ER patients rarely life threatening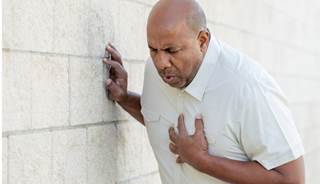 Only 5.5% of ER patients are diagnosed with 1 of 6 life threatening conditions.
HealthDay News – Less than 6% of patients presenting to the emergency department with chest pain suffer from life-threatening conditions such as a heart attack, according to a research letter published online June 13 in JAMA Internal Medicine.
Renee Hsia, MD, an emergency department physician and director of Health Policy Studies at the University of California, San Francisco, and colleagues analyzed a database that includes details from a sampling of US emergency department visits. They focused on 10,907 patient records from 2005 to 2011 for chest pain not due to trauma.
The researchers found that only 5.5% of patients were diagnosed with 6 conditions thought to be life-threatening: acute coronary syndrome, aortic dissection, pulmonary embolism, tension pneumothorax, esophageal rupture, and perforated peptic ulcer. Overall, 57% of the patients were discharged. Fifty-one patients (0.4%) died in the hospital or emergency department. The most common diagnosis for chest pain was "nonspecific chest pain." This occurred in more than 5 out of 10 patients examined for chest pain.
"Our findings show that health care professionals require accurate differential diagnosis lists with information regarding the likelihood of life-threatening conditions to be able to limit wasteful tests and improve patient outcomes," the authors write. "The likelihood of these conditions, outside of acute myocardial infarction, is rare, and suggests that significant diagnostic testing to rule out these diagnoses may not be warranted in a general population of undifferentiated patients presenting with chest pain."
Reference
Hsia RY, Hale Z, Tabas JA. A national study of the prevalence of life-threatening diagnoses in patients with chest pain. JAMA Intern Med. 2016;176(7):1029-1032; doi: 10.1001/jamainternmed.2016.2498