December 21, 2016
Crizanlizumab reduces sickle cell-related pain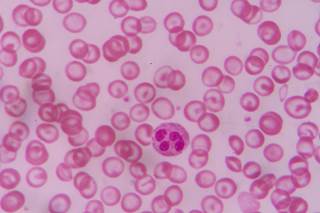 Treatment with high-dose crizanlizumab resulted in an annual rate of sickle cell–related pain crises that was 45.3% lower compared with placebo.
In patients with sickle cell disease, crizanlizumab therapy resulted in a significantly lower rate of sickle cell–related pain crises than placebo and was associated with a low incidence rate of adverse events, according to a study published in New England Journal of Medicine.
Kenneth I. Ataga, MB, BS, from the Comprehensive Sickle Cell program at the University of North Carolina, Chapel Hill, and colleagues identified 198 patients from sites throughout the US, Brazil, and Jamaica; all patients were diagnosed with sickle cell disease and had 2 to 10 sickle cell–related pain crises in the 12 months before enrollment. From August 2013 through January 2015, patients were randomly assigned to receive high-dose crizanlizumab (67 patients), low-dose crizanlizumab (66 patients), or placebo (65 patients). Of the patients who underwent randomization, 129 completed the trial.
Doses of crizanlizumab were administered intravenously 14 times during a period of 52 weeks. High-dose crizanlizumab was measured at 5.0 mg of patients' body weight and low-dose at 2.5 mg. For the follow-up evaluation phase, patients returned for an assessment 6 weeks after the end of treatment phase.
Sickle cell–related pain crises were defined as acute episodes of pain, with no medically determined cause other than a vaso-occlusive event that resulted in a medical facility visit and treatment with oral or parenteral narcotic agents or with a parenteral nonsteroidal anti-inflammatory drug. Secondary efficacy assessments included the annual rate of days hospitalized, times to first and second crises, and the annual rate of uncomplicated crises.
The median rate of crises per year was 1.63 with high-dose crizanlizumab vs 2.98 with placebo (a 45.3% lower rate) and 2.01 in low-dose crizanlizumab (a 32.6% lower rate). A total of 24 of 67 patients (36%) in the high-dose crizanlizumab group, 12 of 66 (18%) in the low-dose crizanlizumab group, and 11 of 65 (17%) in the placebo group had a crisis rate of 0 during the treatment phase.
The median rate of days hospitalized between patients in the high-dose crizanlizumab group and placebo group was not significant. The median time to the first crisis was significantly longer among patients receiving high-dose crizanlizumab than among patients receiving placebo (4.07 vs 1.38 months), as was the median time to the second crisis (10.32 vs 5.09 months). The rate of uncomplicated crises per year was 62.9% lower in the high-dose crizanlizumab group than in the placebo group.
"We observed that treatment with high-dose crizanlizumab resulted in an annual rate of sickle cell–related pain crises that was 45.3% lower than the rate with placebo," said the researchers. "In addition, the median times to the first and second crises were 2 to 3 times as long in patients receiving high-dose crizanlizumab as in those receiving placebo."
Reference
Ataga KI, Kutlar A, Kanter J, et al. Crizanlizumab for the prevention of pain crises in sickle cell disease. N Engl J Med. 3 December 2016. DOI: 10.1056/NEJMoa1611770