September 27, 2018
Recreational Screen Time, Sleep Duration Linked to Cognitive Development in Children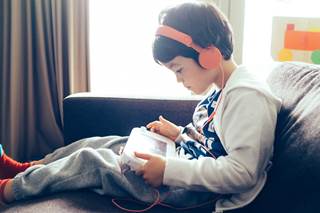 Children aged 8 to 11 years should be physically active for ≥1 hour per day, engage in recreational screen time for ≤2 hours per day, and sleep for 9 to 11 hours per night.
In children aged 8 to 11 years, limiting recreational screen time to less than 2 hours per day as well as sustaining a minimum of 9 hours of sleep per night are associated with enhanced cognition, according to a study published in the Lancet Child and Adolescent Health.1
"Behaviors and day-to-day activities contribute to brain and cognitive development in children, and physical activity, sedentary behavior, and sleep might independently and collectively affect cognition," stated Jeremy J. Walsh, PhD, of the Children's Hospital of Eastern Ontario Research Institute, Ottawa, Canada, in an accompanying press release.2 "[T]he link between sedentary behaviors, like recreational screen time, is unclear as this research is in the early stages and it appears to vary depending on the types of screen-based activity."
A group of researchers analyzed data from 4520 children from 20 locations in the United States. Children and parents completed the following questionnaires: the Youth Risk Behavior Survey to assess physical activity, the Youth Screen Time Survey to determine the number of hours spent per weekday and weekend watching recreational screen-based activities (ie, social media and television), and the Parent Sleep Disturbance Scale for Children to define the number of hours of sleep a child gets on most nights. Children who reported being physically active 7 days per week, participating in recreational screen time for ≤2 hours per day, and sleeping 9 to 11 hours per night were classified as meeting the Canadian 24-Hour Movement Guidelines for Children and Youth.
Results from the study found that on average, children participated in physical activity for ≥60 minutes for a mean of 3.7 days per week, spent a mean of 3.6 hours per day engaging in recreational screen time, and slept for a mean of 9.1 hours per night. Overall, 2303 (51%) of participants met sleep recommendations, 1655 (37%) met screen time recommendations, and 793 (18%) met physical activity recommendations. Global cognition was positively associated with each additional recommendation met (β=1.44).1
"We found that more than two hours of recreational screen time in children was associated with poorer cognitive development," Dr Walsh concluded. "More research into the links between screen time and cognition is now needed, including studying the effect of different types of screen time, whether content is educational or entertainment, and whether it requires focus or involves multitasking."2
References
Walsh JJ, Barnes JD, Cameron JD, et al. Associations between 24 hour movement behaviours and global cognition in US children: a cross-sectional observational study [published online September 26, 2018]. Lancet Child and Adolesc Health. doi: http://dx.doi.org/10.1016/
Limiting children's recreational screen time to less than two hours a day linked to better cognition [news release]. Kidlington, Oxford, United Kingdom: The Lancet Child & Adolescent Health. September 26, 2018.