July 14, 2016
Healthcare issues of the LGBT community: What the primary care clinician should know
LGBT persons frequently receive suboptimal health care.
Disparities in health care
The LGBT community, also referred to as sexual minorities, represents a growing and medically underserved population in the United States.18 Lesbian and bisexual women are more likely to have poor physical and mental health, compared with heterosexual women, and they are less likely to use preventive health services. Gay and bisexual men are at higher risk for sexually transmitted diseases (STDs) and poor mental health, compared with heterosexual men.19-21
Suicide is more common in LGBT individuals than in heterosexuals. LGB individuals are two times more likely than their heterosexual peers to make suicide attempts.22 The risk for depression and anxiety disorders and alcohol and substance abuse is 1.5 times higher in LGBT individuals.23,24
LGBT individuals also suffer incidents of violence against them more than the general population. LGBT youth are often involved in physical fighting, threatened or injured, and bullied on school property.25
Sexual assessment
A detailed sexual history is important in order to assess risk of health problems for LGBT patients. Primary care clinicians need to be sensitive to a patient's potential discomfort in discussing sexual history, sex partners, or sexual practices. It is important to ensure confidentiality and not make assumptions about sexual orientation.
In order to assess risk of STD, it is necessary to ask the patient about the sex and number of their sex partners. The clinician should ask about the length of relationship with sex partners and if the patient practices safe sex. Clinicians should ask specifically how the patient practices safe sex. Also, the clinician needs to ask the patient about the human immunodeficiency virus (HIV) status and drug use of their sex partners.26
Questions need to be specific in order to identify the anatomic sites from which to collect specimens for STD testing. It is necessary to ask about genital, oral, and anal sexual practices and if condoms or dental dams are used. Receptive anal sex increases susceptibility to HIV compared with insertive anal sex.27 Past history of STDs and questions about desire to have children are necessary. Females need to be asked about their menstrual periods and history of pregnancy (Table 1).26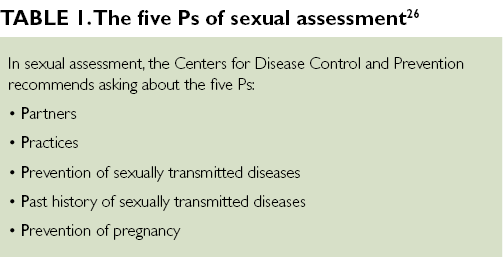 Health issues of MSM
MSM have a uniquely high risk for HIV infection, human papilloma virus (HPV) infection, viral hepatitis, anal cancer, and other disorders contracted by sexual activity. (Table 2).
HIV infection. A 2012 CDC report revealed that, although the MSM population represents approximately 4% of the male population in the United States, MSM accounted for 78% of new HIV infections among men and 63% of all new HIV infections.28 MSM accounted for 54% of all persons who were living with HIV.28 Black MSM were disproportionately affected by HIV, as they accounted for 30% of MSM with HIV and 40% of new HIV diagnoses.28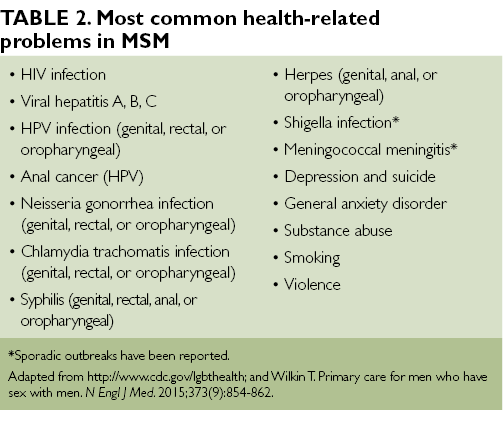 It is important for the primary care clinician to test MSM for HIV annually. A recent study from the CDC showed that 33% of MSM who did not know their HIV status had not been tested for HIV in the past 12 months.29 Patient education is vital to increasing the practice of preventive measures to protect MSM from contracting HIV (Table 3). Healthcare professionals should teach MSM the importance of practicing safe sex: using condoms and non–petroleum-based lubricants.29
Preventive primary care for MSM includes pre-exposure prophylaxis (PrEP), which is a prescription pill taken daily by those who do not have HIV but are at high risk for HIV infection. PrEP is particularly needed by patients whose partners are HIV positive. A postexposure strategy is also available that involves the use of antiretroviral medications (eg, tenofovir disoproxil fumarate and raltegravir). The medication is taken after an isolated incident of high-risk exposure (within 72 h and preferably within 24 h) in conjunction with HIV testing. Treatment is continued for 28 days.30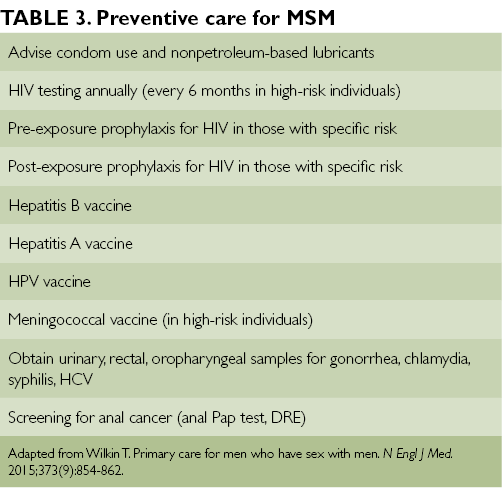 High-risk individuals should be tested for HIV and STDs every 6 months, and they should receive immunizations for the health problems associated with HIV. Testing should also be done periodically for tuberculosis, HPV, and hepatitis A, B, and C.31