September 18, 2014
New psoriatic arthritis patients switch treatments often
Disease-modifying antirheumatic drug treatments are often discontinued, changed, or added-on to in patients with psoriatic arthritis.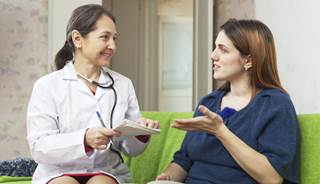 A patient talks with a provider about psoriasis treatment
After initiating treatment, patients diagnosed with psoriatic arthritis (PsA) change drug therapy often, the results of a study published in Arthritis Research & Therapy indicated.
"Despite the treatment guidelines and clinical studies that demonstrate the benefits and risks of oral disease-modifying antirheumatic drugs (DMARDs) and biologics in PsA, it remains unclear on how physicians generally approach the management of PsA," noted Huabin Zhang, MD, MPH, of the Celegene Corporation in Summit N.J, and colleagues.
To describe treatment changes in patients with PsA following the initiation of biologic or nonbiologic DMARDs, the investigators followed patients initiated on an oral nonbiologic DMARD (n=1,698) and biologic DMARD (n=3,263).
Patients included in the study had ≥2 PsA diagnoses from provider visits from 2005 to 2009. Treatment changes such as discontinuation, switching, and therapy add-on were captured over a one-year period following the index date. Treatment changes were described separately for patients initiated on nonbiologic and biologic DMARDs.
For patients initiated on a nonbiologic DMARD, 69% had more than one change in therapy over the 12-month study period (median time, 85 days). Among patients who had a change in therapy, 83% discontinued therapy, 29% switched therapy (64% of those patients switched to a biologic DMARD) and 25% had a therapy add-on (75% added-on a biologic DMARD).
In patients who initiated a biologic DMARD, 46% had more than one change in therapy (median time, 110 days). Among patients in the biologic-DMARD group who had a change in therapy, 10% discontinued therapy, 25% switched therapy (92% switched to a different biologic DMARD) and 7% had a therapy add-on with a nonbiologic DMARD.
"This study suggests that PsA patients newly initiated on a nonbiologic/biologic DMARD do not remain on the index treatment for a long period of time," concluded the researchers. A better understanding of factors related to these early treatment changes in PsA is needed.
References
Zhang H et al. Arthritis Research & Therapy. 2014; doi: 10.1186/s13075-014-0420-5
Disclosures
This study was funded by Celgene Corporation. Huabin Frank Zhang is an employee of Celgene Corporation and owns stock/stock options. Geneviève Gauthier and Robert Hiscock are employees of Analysis Group Inc. which has received consultancy fees from Celgene Corporation. Jeffrey R. Curtis is an employee of the University of Alabama at Birmingham who has received consultancy fees from Celgene Corporation.