May 11, 2015
Obesity, hypertension, diabetes often accompany psoriasis diagnosis
the Clinical Advisor take:
Pediatric patients with psoriasis and atopic eczema show different and specific patterns of comorbidity, according research published in Dermatology.
"Juvenile psoriasis differs from psoriasis beginning in adulthood and is characterised by an increased rate of guttate psoriasis following infections, particularly with streptococci, or psychosocial stress situations," noted Matthias Augustin, PhD, of the University Medical Centre Hamburg-Eppendorf in Germany, and colleagues.
It is estimated that 30% to 60% of children with juvenile psoriasis develop plaque psoriasis, according to the researchers.
To characterize the profiles of comorbidity in children with psoriasis and atopic eczema, the investigators reviewed health insurance data of 293,181 children, aged up to 18 years, with psoriasis. Of the pediatric patients, 0.45% (n=1,313) had a diagnosis of psoriasis and 10.35% (n=30,354) had a diagnosis of atopic eczema.
Obesity, hyperlipidaemia, arterial hypertension and diabetes were more often diagnosed in children with psoriasis in comparison to all children without psoriasis and to those with atopic eczema, reported the scientists.
"Children with psoriasis show increased comorbidity associated with obesity. In contrast, atopic eczema in children is associated with significantly increased rates of atopic comorbidity such as allergic rhinitis and bronchial asthma," concluded the researchers.
"It can be assumed that the basic outcomes of the study both on the disease prevalence and the prevalence of comorbidity are valid for the German population."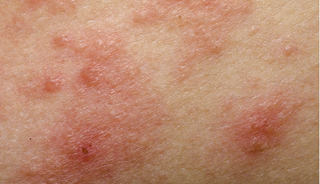 Obesity, hypertension, diabetes often accompany psoriasis diagnosis
Background: First studies have shown that juvenile psoriasis is associated with an increased prevalence of comorbidity.
Objectives: We carried out a data analysis to characterise the profiles of comorbidity in children with psoriasis and atopic eczema.
Methods: Prevalence data were derived from the database of a German statutory health insurance company according to ICD-10 codes L40 (psoriasis) and L20 (atopic eczema) of children up to 18 years insured in 2009.
Results: Data sets included 1.64 million persons and 293,181 children. 1,313 children = 0.45% (0.42-0.47) had a diagnosis of psoriasis and 30,354 = 10.35% (10.24-10.47) had a diagnosis of atopic eczema.
Next Article in Psoriasis Information Center