July 10, 2014
Secukinumab effective for plaque psoriasis
Data from two randomized trials demonstrate efficacy of secukinumab versus placebo.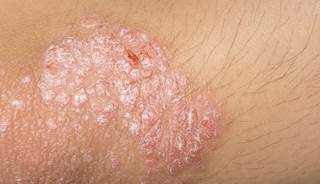 Secukinumab effective for plaque psoriasis
HealthDay News -- For patients with moderate-to-severe plaque psoriasis, the anti-interleukin-17A monoclonal antibody, secukinumab, is effective, findings from two phase 3 clinical trials indicate.
"Our understanding of the pathogenesis of psoriasis was advanced by the discovery of the class of type 17 helper T (Th17) cells, which regulates innate and adaptive immunity," explained Richard G. Langley, MD, of Dalhousie University in Halifax, Canada, and colleagues in the New England Journal of Medicine.
The Efficacy of Response and Safety of Two Fixed Secukinumab Regimens in Psoriasis (ERASURE) trial involved 738 patients with moderate-to-severe plaque psoriasis. The Full Year Investigative Examination of Secukinumab versus Etanercept Using Two Dosing Regimens to Determine Efficacy in Psoriasis (FIXTURE) study involved 1,306 patients.
In both studies, patients were randomly assigned 300 mg or 150 mg subcutaneous secukinumab or placebo. Patients in the FIXTURE study were also assigned to etanercept.
The proportion of patients who had a reduction of 75% or more from baseline in the psoriasis area-and-severity index (PASI) score was higher with each secukinumab dose versus placebo or etanercept, the researchers found.
In the ERASURE trial, the rates were 81.6% and 71.6%, respectively, with 300 and 150 mg of secukinumab, compared to 4.5% with placebo. In the FIXTURE study, the rates were 77.1% and 67.0%, respectively, with 300 and 150 mg of secukinumab, compared to 44.0% with etanercept and 4.9% with placebo (P<0.001 for secukinumab doses versus comparators).
"Secukinumab was effective for psoriasis in two randomized trials, validating interleukin-17A as a therapeutic target," concluded the researchers.
References
Disclosure: The study was funded by Novartis, the manufacturer of secukinumab.