September 20, 2016
Multibiomarker disease activity predicts relapse in rheumatoid arthritis patients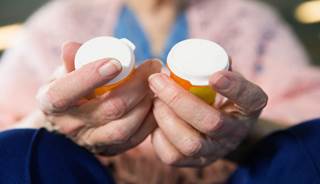 Multibiomarker disease activity improved relapse prediction in RA patients who are in remission.
Multibiomarker disease activity (MBDA) improves prediction of disease relapses in patients with rheumatoid arthritis (RA) who are in stable remission and who tapered disease-modifying antirheumatic drug (DMARD) therapy, according to data published in the Annals of the Rheumatic Diseases.
To examine the role of the MBDA score in predicting RA disease relapse, Professor Georg Schett, MD, from the Department of Internal Medicine, Rheumatology and Immunology, University Clinic of Erlangen-Nuremberg, Erlangen, Germany, and colleagues compared the MBDA scores of patients who remained in remission when tapering DMARDs with patients who relapsed.
The researchers determined the MBDA scores of 94 patients from the RETRO study based on the serum levels of 12 inflammation markers. They included demographic and disease-specific parameters in their multivariate logistic regression analysis to define predictors of relapse.
The results showed that 33% of patients with RA had moderate-to-high MBDA scores. In addition, 58% of patients who relapsed had moderate-to-high MBDA scores compared with 21% of patients who remained in remission.
Patients with RA who relapsed had higher baseline MBDA scores compared with those remaining in stable remission (n=94) and patients who were tapering or stopping DMARD therapy (n=59). MBDA scores and anticitrullinated protein antibody (ACPA) status were independent predictors of relapses, according to the multivariate regression analysis.
The relapse rate was 13% in patients with a double-negative MBDA score and ACPA status (MBDA—/ACPA—), 33.3% in patients who were single-positive for MBDA (MBDA+/ ACPA—), 31.8% in patients who were single-positive for ACPA (MBDA—/ACPA+), and 76.4% in patients who were double-positive (MBDA+/ACPA+).
"Assessment of residual inflammatory activity allows refinement of prediction models for relapses during DMARD tapering, if combined with the assessment of ACPA status," the authors of the study wrote. "Hence, more than 80% of the relapses could be predicted when using MBDA scores in conjunction with ACPA testing."
Reference
Rech J, Hueber AJ, Finzel S, et al. Prediction of disease relapses by multibiomarker disease activity and autoantibody status in patients with rheumatoid arthritis on tapering DMARD treatment. Ann Rheum Dis. 2016; doi: 10.1136/annrheumdis-2015-207900.