September 19, 2013
Finding strength in the patient-provider bond
Many in the medical profession say that it isn't professional to become attached to patients. I disagree.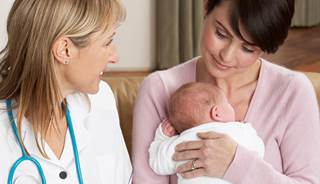 Finding strength in the patient-provider bond
A common worry that many pregnant moms share when they are pregnant with their second child is, "Will I love this baby as much as I love my first child?"
I remember feeling this way when I was pregnant with my second son. I asked my sister, who had four children, if she felt that she truly loved them all equally. She smiled and said, "Yes. Your heart grows, and there is always just as much love there for the next child." She was right, and I often share these words of wisdom with my patients.
I think the same is true for a midwife and her patients. I often begin seeing patients before they become pregnant, and then see them frequently throughout their pregnancies and postpartum period. I get to know my patients well. During office visits they tell me about their families, their stories, their doubts and their joys. I grow very fond of these women over time, especially the pregnant ones, who I see so often.
I find myself somewhat sad at their postpartum visit, when I know I will return to seeing them on yearly schedule. While I am equally fond of my gynecology patients, I just don't see them as frequently as I do patients during prenatal visits.
Each of my patients holds a place in my heart. Some of them I don't remember vividly over time, and some names and faces I doubt I'll ever forget.
I have had the pleasure of working with the mom and grandmother of the first baby I caught as a student midwife. I've been able to watch that baby grow into a little girl. I have delivered all three of one patient's babies, quite a feat only 5 years into my midwifery career. Each of these births was unique and very memorable.
I've been blessed and honored that dear friends, family and colleagues entrust their care or the care of their loved ones to me. Conversely, I've had patients I've never met before I walk into the delivery room on their birthing day, but a bond is formed during that intimate event.
Perhaps the patients I hold the closest to my heart are those who have lost their babies. Those mothers of stillborn babies, or babies who have died shortly after birth, carry more pain in their hearts than I can even imagine. They are among the strongest people I'll ever know, and have dealt with the worst kind of loss.
Many in the medical profession say that it isn't professional to become attached to patients. I disagree. I hug my patients, I cry with my patients and I stay up at night worrying about my patients.
I often get in trouble with my office staff for taking too long during office visits. This is they way I provide care for my patients – by actually caring. I hope that when I don't care as much, when I realize my heart no longer has room to grow, that I will have the wisdom to retire.
Robyn Carlisle, MSN, CNM, WHNP, works as a full-scope midwife at University Doctors and Kennedy University Hospital in Sewell, N.J.