November 04, 2014
'What's an NP?' too common a question
the Clinical Advisor take:
Nurse practitioners (NPs) are filling the gap in primary care, but sometimes, it seems both medical colleagues and the general public are unaware of the crucial role NPs play in providing that care.
In an opinion piece published by MedPage Today, Rebecca Sedillo, FNP, discussed the common hurdles associated with explaining the duties and responsibilities of nurse practitioners, especially those who practice primary care.
"I'm tired of hearing the quick dismissal and lack of respect for nurses -- from our families, our peers in healthcare, and the general public," Sedillo wrote.
After attending the Primary Care Progress's Gregg Stracks Leadership Summit, Sedillo realized that other medical students, not just NPs, pursuing primary care encountered the same situations.
"I learned that students of any healthcare profession who plan to practice primary care face this quick dismissal and lack of respect all the time. Same judgment. Same ignorance. Same misconceptions."
This camaraderie helped Sedillo realize the unique contribution those attracted to primary care provide. "As primary care students and providers, we are all anomalies of sorts," wrote Sedillo.
"Crafting our careers around the hard work of patient-centered care, improving access in underserved communities, and not making the big bucks means that our priorities sometimes alienate us from our classmates and colleagues in healthcare."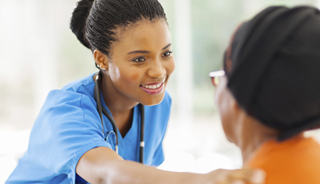 Primary care providers are driven to help improve health-care
On my first day of a clinical rotation at a community health clinic in Phoenix, Ariz., nursing students, med students, interpreters, and primary care providers huddle in the back room to present history and physical exam findings to our MD preceptors. In between patients, one of the med students starts chatting me up. "You're a nurse practitioner student? Cool, my mom is a nurse. Wait, what's the difference between a nurse and a nurse practitioner?" he asks.
I used to get this question all the time from med students, so I give my well-rehearsed answer.
Next Article in The Waiting Room