July 24, 2014
Antibiotics Rxs more common than antivirals for flu
Among patients diagnosed with PCR-confirmed influenza, more receive antibiotic prescriptions than antivirals.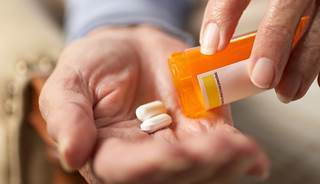 Antibiotics Rxs more common than antivirals for flu
HealthDay News -- Few outpatients diagnosed with influenza are prescribed antivirals, compared with antibiotic prescribing, according to a study published in Clinical Infectious Diseases.
"Early antiviral treatment (≤2 days since illness onset) of influenza reduces the probability of influenza-associated complications. Early empiric antiviral treatment is recommended for those with suspected influenza at higher risk for influenza complications regardless of their illness severity," wrote Fiona Havers, MD, MHS, of the CDC in Atlanta, and colleagues.
Antiviral receipt among outpatients with acute respiratory illness and antibiotic receipt among patients diagnosed with influenza were analyzed from five data sites in the United States Influenza Vaccine Effectiveness Network Study for the 2012 to 2013 influenza season.
Of the patients, 7.5% (n=6,766) with acute respiratory illness received an antiviral prescription. Overall, 35% of these patients had polymerase chain reaction-confirmed influenza; 15% received an antiviral prescription. More than 1,000 acute respiratory infection patients at high risk for influenza complications were prescribed an antiviral medication.
Of the participants with antibiotic data, 30% of those with PCR-confirmed influenza were prescribed one of three antibiotics and 16% were prescribed antiviral medications.
"Antiviral treatment was prescribed infrequently among outpatients with influenza for whom therapy would be most beneficial; in contrast, antibiotic prescribing was more frequent," wrote the researchers. "Continued efforts to educate clinicians on appropriate antibiotic and antiviral use are essential to improve health care quality."