July 30, 2015
Assessing dyspnea severity can improve cardiopulmonary care
This article originally appeared
here.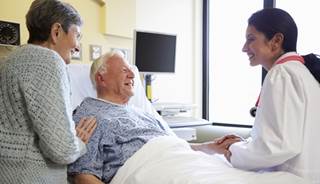 Assessing dyspnea severity can improve hospital patient care.
HealthDay News — The majority of hospitalists believe that routinely assessing dyspnea severity would enhance their clinical decision making and positively affect patient care, according to a study published online July 20 in the Journal of Hospital Medicine.
Mihaela S. Stefan, MD, from Baystate Medical Center in Springfield, Mass., and colleagues conducted a survey to evaluate attitudes and beliefs of hospitalists at nine hospitals regarding the assessment and management of dyspnea in patients with acute cardiopulmonary diseases.
Based on responses from 178 providers, the researchers found that most providers (77%) agree that dyspnea relief is an important goal when treating patients with cardiopulmonary conditions. The majority (about 90%) also report that awareness of dyspnea severity influences their decision to intensify treatment, their decision to pursue additional diagnostic testing, and the timing of discharge. More than half of respondents (61%) believe standardized assessment of dyspnea should be part of the vital signs.
"Hospitalists who appreciated the importance of dyspnea in clinical practice were more likely to support the implementation of a standardized scale," the authors write.