November 30, 2014
Chain restaurants now required to supply calorie counts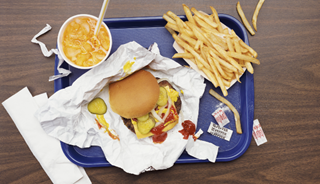 Chain restaurants now required to supply calorie counts
HealthDay News -- New rules announced by the United States Food and Drug Administration (FDA) will require many restaurant chains to post calorie information on their menus. These rules will even apply to movie theatre popcorn and ice cream parlor fare.
The new rule "doesn't apply to independent restaurants, bars, or grocery stores. It also doesn't apply to food trucks, ice cream trucks, food served on airplanes, or other transportation vehicles," noted FDA commissioner Margaret Hamburg, MD in a press release.
Any restaurant that's part of a chain of 20 or more locations doing business under the same name, and where outlets offer similar menus, will have to have calorie counts on menu items, according to the agency. The rules are required as part of the Affordable Care Act, and they also apply to vending machine companies that own 20 or more machines.
Calories will have to be listed for: popcorn purchased at a movie theater or amusement park; meals from sit-down restaurants and drive-through windows; foods ordered from a menu or menu board at a chain grocery store or delicatessen; items you serve yourself from a salad or hot food bar; foods from a bakery, coffee shop, or an ice cream store; and hot dogs or frozen drinks prepared on site in a convenience or warehouse store.
Restaurants and similar retail food stores will have one year to comply with the rule, and vending machine companies will have two years to make the changes, Hamburg said.
Other nutritional information does not have to be included on menus. However, this information has to be supplied in written form to customers if they request it, said Hamburg.