April 01, 2015
More flexible BP guidelines for coronary artery disease issued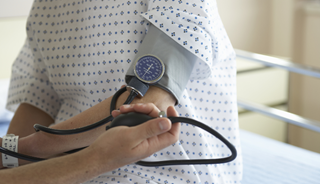 More flexible BP guidelines issued for coronary artery disease
HealthDay News — Guidelines that set blood pressure goals for patients with coronary artery disease have been updated by three leading groups of heart experts, according to a statement published in Hypertension.
"Hypertension is a major independent risk factor for the development of with coronary artery disease (CAD), stroke, and renal failure," wrote Clive Rosendorff, MD, PhD, DScMed, FAHA, FACC, FASH, of Mount Sinai Hospital in Bronx, New York, and colleagues.
"The optimal choice of antihypertensive agents remains controversial, and there are only partial answers to important questions in the treatment of hypertension for the prevention and management of ischemic heart disease (IHD)."
Specifically, the guidelines reinforce a target blood pressure of less than 140/90 mm Hg for those at risk for heart attack and stroke. The guidelines also set a goal of 130/80 mm Hg for those with heart disease who have already had a heart attack, stroke, or a transient ischemic attack, or who have had carotid artery disease, peripheral artery disease, or an abdominal aortic aneurysm.
However, the new guidelines are intended to be more flexible than ones crafted in 2007, Rosendorff, told HealthDay. Ultimately, the blood pressure goal any individual patient tries to achieve should be left to the discretion of the doctor and the patient. For example, the lower goal may not be appropriate for older, frail patients who might experience dizziness if their blood pressure drops too much.
According to Rosendorff, one change in the updated guidelines is a concise statement about which drugs should be used to lower blood pressure in patients with heart disease.
"There are three drugs which have been shown to improve outcomes," he said. These include beta-blockers, angiotensin II receptor blockers, and angiotensin-converting-enzyme inhibitors.