July 04, 2015
IOM recommends making CPR a high school requirement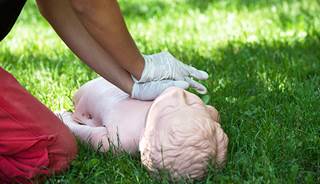 The IOM supports making CPR a graduation requirement for all middle and high school students.
HealthDay News -- Far too few Americans are surviving cardiac arrest, and a recent report from the Institute of Medicine (IOM) offers strategies to boost survival rates.
Fewer than 6% of the 395,000 Americans who suffer cardiac arrest outside a hospital each year will survive, according to the report. And even in a hospital setting, cardiac arrest survival rates are low. Roughly 200,000 events occur each year in hospitals but just 24% of those patients survive.
Key actions that might help save lives include the following:
Monitor performance and track progress through a national registry of cardiac arrests, which could help health officials spot problems
Improve the performance of emergency medical service systems, focusing on dispatcher-assisted CPR and high-performance CPR
Develop strategies to boost care within hospitals, including setting national cardiac arrest accreditation standards
Adopt "continuous quality improvement programs" for cardiac arrest to encourage training within hospitals
The committee also supports CPR and automated electronic defibrillator training as graduation requirements for all middle and high school students.
"Although breakthroughs in understanding and treating cardiac arrest are promising, the ability to deliver timely interventions and high-quality care is inconsistent," Robert Graham, MD, chair of the study committee, said in a news release from the National Academy of Sciences, which oversees the Institute of Medicine. "Cardiac arrest treatment is a community issue, requiring a wide range of people to be prepared to act." Graham directs the national program office for Aligning Forces for Quality at George Washington University in Washington, D.C.