December 16, 2014
Nearly 50% of hospitalized kids exposed to potentially dangerous drug combos
Opioids such as morphine and oxycodone were drugs most often involved in potentially dangerous drug interactions.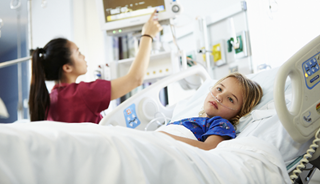 A clinician reviews the progress of a hospitalized pediatric patient
HealthDay News -- Among the nearly 500,000 children and teenagers who were hospitalized in 2011, 49% were given combinations of drugs that could have potential interactions, results of a study in Pediatrics indicate.
"Hospitalized infants, children, and adolescents are typically exposed to numerous distinct medications during inpatient admissions, increasing their risk of potential drug-drug interactions (PDDIs)," wrote Chris Feudtner, MD, PhD, MPH, of the Children's Hospital of Philadelphia, and colleagues.
To assess the prevalence and characteristics of PDDI exposure of pediatric patients treated in children's hospitals, the investigators reviewed administration records from 43 children's hospitals in the United States. The researchers identified potential drug interactions in each patient's case by checking a standard alert system used by hospitals.
Overall, 49% of children were given at least one drug combination with potential interactions. Opioids, such as morphine and oxycodone, were the drugs most often involved, followed by antiinfective agents.
The potential side effects, according to the study authors, included additive respiratory depression, bleeding, reduced iron absorption, and sedation. But the researchers had no information how often any side effects actually arose.
"Empirical data are needed to determine the probability and magnitude of the actual harm for each specific PDDI, particularly for less common drug pairs," concluded the scientists.