March 29, 2015
Fish, PUFA intake linked to higher survival rates after breast cancer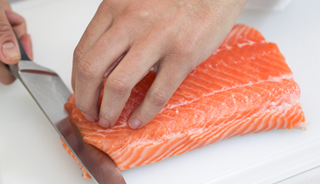 Fish, PUFA intake linked to higher survival rates after breast cancer
HealthDay News — High intake of fish and long-chain ω-3 polyunsaturated fatty acids is associated with reduced all-cause mortality after breast cancer, results of a study published in Cancer indicate.
"Epidemiologic investigations regarding whether dietary ω-3 polyunsaturated fatty acids (PUFAs) intake benefits survival after breast cancer are limited and inconsistent," noted Nikhil K. Khankari, PhD, MPH, of the University of North Carolina at Chapel Hill, and colleagues.
To assess risk and prognostic factors, including dietary intake, the investigators used resources from a population-based follow-up study. The researchers culled data from 1,463 women newly diagnosed with first primary breast cancer who were interviewed approximately three months after diagnosis. Risk and prognostic factors were assessed, including dietary intake, using a food frequency questionnaire. The authors determined vital status through 2011, with a median follow-up of 14.7 years and 485 deaths.
Among women with breast cancer, all-cause mortality was reduced for those reporting the highest quartile of intake (versus never) for tuna (hazard ratio, 0.71), other baked or broiled fish (hazard ratio, 0.75), and the dietary long-chain ω-3 PUFAs docosahexaenoic acid and eicosapentaenoic acid (hazard ratios, 0.71 and 0.75, respectively).
"Pending additional replication, dietary intake of fish and other sources of long-chain ω-3 fatty acids may provide an additional strategy with which to improve survival after breast cancer," concluded the study authors.