June 05, 2015
Strict glycemic control may decrease cardiovascular events in diabetes patients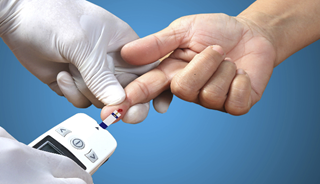 Strict glycemic control may decrease cardiovascular events
HealthDay News — Intensive glycemic control appears to reduce cardiovascular events in patients with type 2 diabetes, results of a study published in the New England Journal of Medicine indicate.
To examine the impact of tightly controlled blood glucose on cardiovascular event incidence, Rodney Hayward, MD, of the Veterans Affairs Center for Clinical Management Research and University of Michigan in Ann Arbor, and colleagues, culled follow-up data from 1,791 military veterans who were enrolled in the Veterans Affairs Diabetes Trial. In that trial, patients with type 2 diabetes were randomly assigned to have their blood glucose strictly controlled or not as tightly controlled.
The glycated hemoglobin in the intensive control group was 6.9%, on average. For those on standard care, the glycated hemoglobin average was 8.4%, according to the study.
Over an average follow-up of almost 10 years, those who had their blood glucose strictly controlled had a significantly lower risk of heart attack, stroke, new or worsening heart failure, or amputation for ischemic gangrene, compared with patients whose blood glucose wasn't as strictly controlled. Strict glycemic control had no effect on overall survival, noted the researchers.
"This finding reinforces the importance of combining good blood sugar control with control of other cardiovascular risk factors for a combined effect, especially controlling cholesterol and blood pressure," Hayward told HealthDay.