May 15, 2015
Grip strength may indicate increased heart disease, mortality risk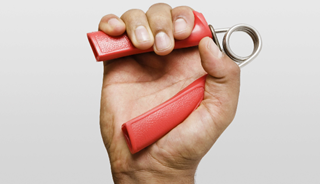 Grip strength may indicate increased heart disease, mortality risk
HealthDay News — Testing hand-grip strength could be a cost-effective and simple way of spotting patients at increased risk for myocardial infarction, stroke, and premature death, according to study findings published in The Lancet.
"Reduced muscular strength, as measured by grip strength, has been associated with an increased risk of all-cause and cardiovascular mortality," noted Darryl Leong, PhD, of the Population Health Research Institute at Hamilton Health Sciences and McMaster University in Canada, and colleagues.
"However, the prognostic value of grip strength with respect to the number and range of populations and confounders is unknown."
To assess the independent prognostic importance of grip strength measurement, the investigators looked at data from 139,691 adult patients who underwent grip-strength tests. The participants, aged 35 to 70 years, were from 17 countries. Their health was followed for an average of 4 years.
Every 11-pound decrease in grip strength was associated with a 16% increased risk of all-cause mortality. Each decrease was also tied to a 17% raised risk of cardiovascular-related mortality or death from non-cardiovascular causes. And, every 11-pound drop in grip strength was also associated with a 9% increased risk of stroke and a 7% higher risk of myocardial infarction.
Grip strength appears to be a stronger predictor of premature death than systolic blood pressure, according to the scientists. The link between grip strength and increased risk of myocardial infarction, stroke, and premature death remained even after the researchers accounted for other factors that affect mortality risk and cardiovascular disease, such as age, education level, smoking, drinking, exercise, and employment status.
"Further research is needed to identify determinants of muscular strength and to test whether improvement in strength reduces mortality and cardiovascular disease," concluded the investigators.