March 22, 2015
Multi-step intervention improves hand hygiene compliance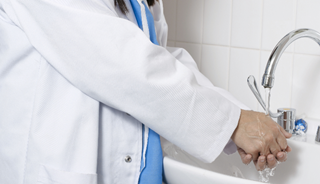 Multi-step intervention improves hand hygiene compliance
HealthDay News — After implementing a multifaceted intervention program, hand hygiene compliance increased, results of a study published in the Journal of Emergency Nursing indicate.
"Although hand hygiene strategies significantly reduce health care-associated infections, multiple studies have documented that hand hygiene is the most overlooked and poorly performed infection control intervention," wrote Lynn L. Wiles, PhD, RN, of Old Dominion University in Norfolk, Virginia, and colleagues.
To assess the effectiveness of a multifaceted intervention system (an education module and two experimental learning activities) to improve hand hygiene among emergency nurses and technicians, the investigators followed 92 providers working in an Eastern Virginia emergency department. The clinicians and technicians were asked to complete pretest and posttest assessments to compare knowledge before and after the intervention.
Posttest scores were significantly higher than pretest scores. At both the completion of the project and three months afterward, hand hygiene compliance rates improved (P=0.02), reported the researchers.
"Interfaces with staff as they completed the interactive exercise, as well as anecdotal notes collected during the study, identified key times when compliance suffered and offered opportunities to further improve hand hygiene and, ultimately, patient safety," concluded the study authors.