November 01, 2014
High milk intake associated with increased mortality risk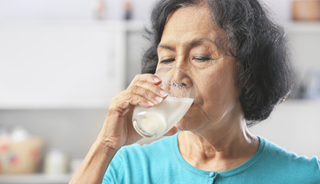 High milk intake associated with increased mortality risk
HealthDay News -- Patients who drink three glasses of milk or more every day may have a higher mortality risk compared with patients who dress less than one glass of milk per day, results of a study published in The BMJ indicate.
"Because of the high content of lactose in milk, we hypothesized that high consumption of milk may increase oxidative stress, which in turn affects the risk of mortality and fracture," explained Karl Michaelsson, MD, PhD, of Uppsala University in Sweden, and colleagues.
To examine whether high milk consumption is associated with mortality and fractures, the investigators surveyed 61,433 women and 45,339 men in Sweden who had previously filled out dietary questionnaires for other research projects.
Women who drank three glasses of milk or more every day had a nearly doubled risk of death and cardiovascular disease, and a 44% increased risk of cancer compared with women who reported drinking less than one glass per day. Men's overall risk of death increased about 10% when they drank three or more glasses of milk daily.
In addition, excessive milk drinking appeared to actually increase women's risk of fractures, compared with women who drank little milk. The risk of any bone fracture increased 16% in women who drank three or more glasses daily, and the risk of a broken hip increased 60%. Lots of milk did not appear to either protect against or promote broken bones in men.
"Given the observational study designs with the inherent possibility of residual confounding and reverse causation phenomena, a cautious interpretation of the results is recommended," concluded the researchers.