February 06, 2015
Timely, aggressive BP management encouraged
Systolic reading of 150 should prompt immediate action to prevent poor outcomes.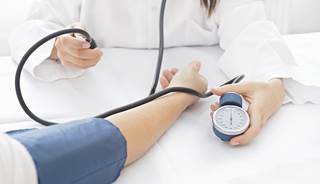 Timely, aggressive BP management encouraged
HealthDay News -- Patients with systolic blood pressure higher than 150 mm Hg face increased risks without aggressive drug treatment started within a month and a half, according to research findings published in The BMJ.
Alexander Turchin, MD, director of informatics research in the division of endocrinology at Brigham and Women's Hospital in Boston, and colleagues examined the medical records of 88,756 British patients with hypertension to pinpoint the precise BP level and critical time points at which treatment was tied to a decrease in the risk of hypertension-related death.
In patients with systolic BPs between 130 and 150 mm Hg, the research team did not detect an increase in risk, but above the 150 threshold, the team observed progressively greater risk. Delaying the intensification of treatment by more than 1.4 months after a BP rise past 150 mm Hg increased a person's risk for heart attack, stroke or early death, the researchers found.
When patients received a reassessment of BP levels more than 2.7 months after doctors stepped up treatment, their risk of early death also increased.
"There have been many studies that have looked at what the BP threshold should be," Turchin told HealthDay. "Where the American guidelines are currently silent is how quickly we need to respond, and they are silent because there are no data in that area."