February 26, 2014
Hysterectomy, oophorectomy raise diabetes risk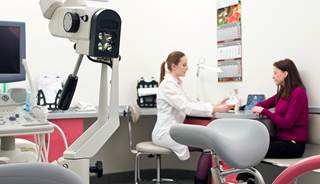 Hysterectomy, oophorectomy raise diabetes risk
HealthDay News -- Postmenopausal women are at higher risk of developing diabetes if they have both a hysterectomy and bilateral oophorectomy, according to a study published in Diabetes Care.
Duke Appiah, MD, from the University of Louisville in Kentucky, and colleagues examined the association between hysterectomy with and without bilateral oophorectomy and diabetes in 2,597 postmenopausal women who were free of diabetes at baseline.
After a median follow-up of 9.2 years, the researchers found a positive correlation for hysterectomy status with diabetes (hazard ratio 1.66; 95% CI: 1.23–2.23). After adjustment for relevant confounders, the elevated risk was seen only for women with both hysterectomy and bilateral oophorectomy (HR 1.57; 95% CI: 1.03–2.41).
For women with no hysterectomy or bilateral oophorectomy, the incidence of diabetes was 7.4 cases per 1,000 person-years, 8.2 per 1,000 person-years for hysterectomy alone and 8.5 per 1,000 person years for hysterectomy with bilateral oophorectomy.
There was also a significant association between an earlier age at menopause and a shorter reproductive life span with diabetes, regardless of the type of menopause (P trend=0.001).
"Women with hysterectomy concomitant with bilateral oophorectomy may represent a unique population with elevated risk for diabetes and other chronic diseases," Appiah and colleagues concluded. "Therefore, the decision to remove the ovaries at the time of hysterectomy for benign conditions during the premenopausal years should be balanced with the risk of diabetes and its potential complications."