January 04, 2013
Improved staffing cuts Medicare patient readmissions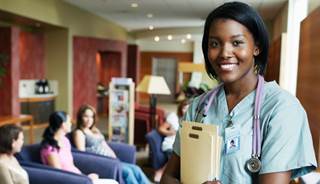 Improved staffing cuts Medicare patient readmissions

HealthDay News -- Hospital nurses with good work environments, and who care for fewer patients, have significantly fewer elderly Medicare patients readmitted for heart failure, acute myocardial infarction (MI) and pneumonia within the 30 days after discharge.

Overall, risk for readmission increased with each additional patient per nurse -- accounting for a 7% increased risk for heart failure (OR=1.07; 95% CI: 1.05–1.09), a 6% increased risk for pneumonia patients (OR=1.06; 95% CI: 1.03–1.09), and 9% incrased risk for myocardial infarction patients (OR=1.09; 95% CI: 1.05–1.13), Matthew D. McHugh, PhD, JD, MPH, RN, and Chenjuan Ma, PhD, RN, both of the University of Pennsylvania in Philadelphia reported in Medical Care.

In order to better understand the affect of work environment, education and hospital nurse staffing levels on 30-day readmission rates, the researchers analyzed patient data, along with responses to the American Hospital Association Annual Survey from California, New Jersey and Pennsylvania.

Overall, 23.3% of heart failure, 19.1% of MI, and 17.8% of pneumonia cases were readmitted to the hospital during the follow-up period.

Patients cared for by hospital nurses working in a good work environment had a significantly lower risk for readmission due to heart failure (7%; OR=0.93; 95% CI: 0.89–0.97), MI (6%; OR=0.94; 95% CI, 0.88–0.98), and pneumonia (10%; OR=0.90; 95% CI: 0.85–0.96).

"Our results suggest that improving nurses' work environment and reducing nurses' workload are organization-wide reforms that could result in fewer readmissions for Medicare beneficiaries with common medical conditions," the researchers wrote. "This is consistent with the evidence showing significant associations between the nurse work environment, staffing and other patient outcomes."