August 17, 2015
Insulin pump use reduces mortality in type 1 diabetes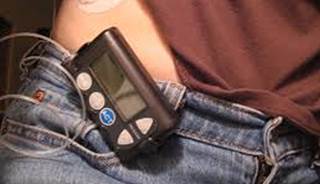 Insulin pump therapy reduces all-cause mortality in T1DM.
HealthDay News — For individuals with type 1 diabetes, long-term use of continuous subcutaneous insulin infusion (insulin pump therapy) is associated with reduced cardiovascular and all-cause mortality, according to a study published online June 22 in The BMJ.
Isabelle Steineck, MD, from the Aarhus University Hospital in Denmark, and colleagues examined the long-term effects of insulin pump therapy on cardiovascular diseases and mortality. Data were included for 18,168 people with type 1 diabetes, of whom 2,441 used insulin pump therapy and 15,727 used multiple daily insulin injections. Patients were followed for a mean of 6.8 years, with 114,135 person-years.
The researchers found that, compared with multiple daily injections, insulin pump therapy led to adjusted hazard ratios that were significantly lower for fatal coronary heart disease (0.55), fatal cardiovascular disease (coronary heart disease or stroke; 0.58), and all-cause mortality (0.73). For fatal or non-fatal coronary heart disease and fatal or non-fatal cardiovascular disease, hazard ratios were lower, but not significantly so. Per 1,000 person-years, the unadjusted differences were 3.0 events of fatal coronary heart disease, 3.3 events of fatal cardiovascular disease, and 5.7 events for all-cause mortality. The results of subgroup analyses were similar when lower body mass index and previous cardiovascular diseases were excluded.
"Among people with type 1 diabetes, use of insulin pump therapy is associated with lower cardiovascular mortality than treatment with multiple daily insulin injections," the authors write.
One author disclosed receiving lecture fees from Sanofi and Novo Nordisk.