December 01, 2014
Jogging effective for combating physical decline in seniors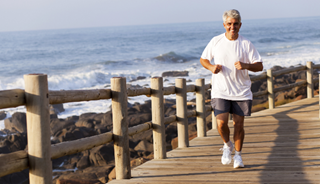 Jogging effective for combating physical decline in seniors
HealthDay News -- Jogging helps seniors fight age-related physical decline in walking efficiency, results of a study published in PLOS ONE indicate.
"Impaired walking performance is a key predictor of morbidity among older adults," noted Justus D. Ortega, PhD, of Humboldt State University in Arcata, Calif., and colleagues.
"A distinctive characteristic of impaired walking performance among older adults is a greater metabolic cost (worse economy) compared to young adults."
To determine if and how regular walking versus running exercise affects the economy of locomotion in senior patients, the investigators looked at patients aged older than 65 years who either ran or walked for exercise.
Patients who ran at least 30 minutes three times a week were less likely to have age-related physical decline in walking compared with walkers. Joggers were 7% to 10% more efficient at walking compared with patients who didn't jog.
"What we found is that older adults who regularly participate in high-aerobic activities -- running in particular -- have what we call a lower metabolic cost of walking than older, sedentary adults. In fact, their metabolic cost of walking is similar to young adults in their 20s," said Ortega in a university press release.