April 02, 2015
Methotrexate, cyclosporine among most affordable psoriasis treatments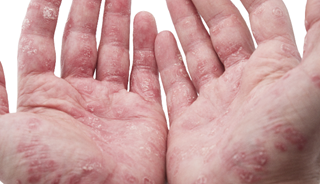 Psoriasis and psoriatic arthritis increase cardiovascular risks.
HealthDay News — Methotrexate and cyclosporine have the lowest monthly cost for treating psoriasis, study findings published in the Journal of the American Association of Dermatology indicate.
"Newer psoriasis treatments tout higher efficacy but are generally more expensive," wrote Logan S. D'Souza, MD, of the University of Connecticut Health Center in Farmington, and colleagues.
To estimate the cost efficacy of systemic psoriasis treatments that have been approved by the FDA, the scientists conducted a literature review. The investigators standardized total expenses by calculating cost per month of treatment considering the number needed to treat (NNT) to achieve a 75% reduction in the Psoriasis Area and Severity Index score (PASI 75).
The lowest monthly costs per NNT to achieve PASI 75 were seen for methotrexate ($794.05 to $1,502.51) and cyclosporine ($1,410.14 to $1,843.55). Infliximab ($8,704.68 to $15,235.52) and ustekinumab 90 mg ($12,505.26 to $14,256.75) were the most costly therapies.
To achieve PASI 75, the monthly costs per NNT for other therapies were $2,924.73 for narrowband ultraviolet B light photography, $3,974.61 to $7,678.78 for adalimumab, $4,137.71 to $14,148.53 for acitretin, $7,177.89 to $7,263.99 for ustekinumab 45 mg, $7,499.46 to $8,834.98 psoralen plus ultraviolet A light phototherapy, and $8,284.71 to $10,674.89 for etanercept.
"Our study provides meaningful cost efficacy data that may influence psoriasis treatment selection," concluded the researchers.
References
Disclosures
One author disclosed financial ties to Amgen.