December 17, 2014
No link between migraines, breast cancer risk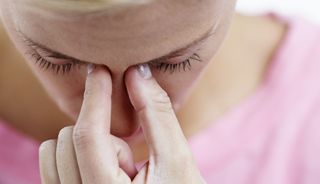 Patients who suffer from migraines are not at higher risk of developing breast cancer
HealthDay News -- Migraine headaches do not increase the risk for breast cancer, according to research published in the Journal of the National Cancer Institute.
"The evidence for an association between migraine and breast cancer risk is inconclusive," noted Anke C. Winter, MD, of Washington University School of Medicine, St. Louis, MO, and colleagues.
"While female sex hormones have been proposed as one underlying mechanism, data on sex hormone levels in migraineurs are sparse."
To evaluate the association between migraine and breast cancer risk, the investigators used Cox proportional hazard models in 115,378 participants from the Nurses' Health Study II. Differences in endogenous sex hormone levels according to migraine status were assessed among 2,034 premenopausal women.
Additionally, the investigators conducted a meta-analysis of studies investigating the association between migraine and invasive breast cancer published through October 2013.
At baseline, 15.3% of women reported a provider-diagnosed case of migraine. Over 20 years of follow-up, 833 in situ and 3091 invasive breast malignancies occurred. Migraine was not associated with total (hazard ratio [HR], 0.96, 95% CI:0.82-1.15), or invasive breast cancer risk (HR, 0.97, 95% CI: 0.87-1.04).
Levels of sex hormones of 2,034 premenopausal women were studied. No link between hormone levels and migraines was found.
The research data, which included analysis of four other studies, hinted that migraine might even lower the risk for breast cancer, but that appeared to be a result of study design and not necessarily a real link, noted the investigators.