July 07, 2015
Most health care professionals have worked while sick
This article originally appeared
here.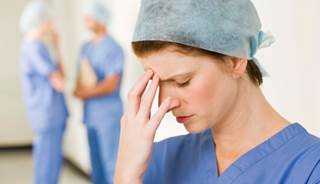 Clinicians cite staffing shortages and patients concerns as reasons to work while sick.
HealthDay News — Many health care professionals work when they are sick, putting their patients at risk for serious illness or even death, according to a study published online July 6 in JAMA Pediatrics.
A team of researchers, led by Julia Szymczak, PhD, of the Children's Hospital of Philadelphia, received anonymous survey responses from 536 health care professionals (physicians and advanced practice clinicians).
The vast majority of those surveyed (95.3%) believed that working while sick put their patients at risk. Still, 83.1% admitted to working while sick at least once in the past year, and 9.3% said they worked while sick at least five times. The respondents said they worked with symptoms like diarrhea, fever, and significant respiratory issues. The reasons given for deciding to work while sick were as follows: 98.7% didn't want to let their colleagues down; 94.9% had concerns about staffing; 92.5% didn't want to disappoint their patients; 64.0% were worried about being ostracized by their colleagues; and 63.8% were concerned about continuity of care.
"The study illustrates the complex social and logistic factors that cause this behavior," the authors write. Lowering the stigma that can come with sick leave "must factor in workforce demands and variability in patient census and emphasize flexibility," Jeffrey Starke, MD, of the Baylor College of Medicine in Houston, and Mary Anne Jackson, MD, from the University of Missouri-Kansas City School of Medicine, write in a related editorial. "Also essential is clarity from occupational health and infection control departments to identify what constitutes being too sick to work."