May 07, 2013
Nearly half of obese young men die before 55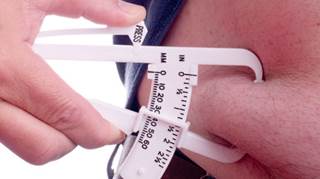 Screen all adults for obesity, USPSTF says
HealthDay News -- Nearly half of young, obese men in a Danish cohort had an adverse cardiometabolic event or died before the age of 55 years, study findings indicate.
During the 33-year follow-up study, obese young men had an eightfold risk for type 2 diabetes, a fourfold risk for venous thromboembolism and a twofold risk for hypertension, myocardial infarction (MI) or premature death, Morten Schmidt, MD, from Aarhus Univesrity of Denmark and colleagues reported in BMJ Open.
"The magnitude of the relative and absolute risk estimates emphasize the major clinical and public health implications associated with obesity in young adulthood," the researchers wrote.
Obesity prevalence has tripled during the past three decades and now exceeds 30% in the United States, presenting a major public health concern. Although previous research has shown adults who are obses are at increased risk for diabetes, cardiovascular disease and mortality, it is unclear whether a long history of overweight from early life into adulthood poses additional risks.
So Schmidt and colleagues analyzed data from population-based medical databases for 6,502 men born in 1955 to examine the correlation between BMI in young adulthood with cardiovascular risks before age 55 years. Follow-up continued from the participants' 22nd birthday until death or age 55 years.
The researchers found that 48% of all obese participants (BMI, ≥30 kg/m²) died before reaching age 55 years or were diagnosed with type 2 diabetes, hypertension, myocardial infarction, stroke or venous thromboembolism.
Comparing obese with normal weight men (BMI, 18.5 to <25.0 kg/m²) correlated with a 28% risk difference for any outcome, and a hazard ratio of 3.0. Obesity correlated with an event rate that was increased more than eightfold for type 2 diabetes, four-fold for venous thromboembolism, and twofold for hypertension, myocardial infarction and death, compared with normal weight.
"The current and projected continued increase in obesity prevalence may affect negatively the current trends of declining cardiovascular death rates. Thus, obesity-related morbidity and mortality will, in decades to come, place an unprecedented burden on healthcare systems worldwide," the researchers concluded. "This forecast reinforces the importance of understanding the effects of adiposity in young adults to plan future strategies for weight management and primary prevention."