April 09, 2014
Neonatal circumcision benefits outweigh risks
Findings add evidence to support public health policies to circumcise infants.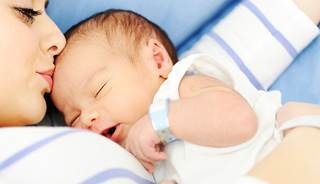 Neonatal circumcision benefits outweigh risks
HealthDay News -- The benefits of neonatal circumcision exceed any risks by at least 100 to one, according to researchers.
Immediate benefits of circumcision included protection against infections that can damage the pediatric kidney, Brian J. Morris, DSc, PhD, from University of Sydney, and colleagues reported in the Mayo Clinic Proceedings.
Half of uncircumcised males over their lifetime will require treatment for a medical condition associated with retention of the foreskin, findings from the systemic literature review and risk-benefit analysis indicated. No long-term negative effects on sexual function or pleasure were documented.
"As with vaccination, circumcision of newborn boys should be part of public health policies," the researchers wrote.
Although circumcision prevalence has increased 2.5% overall among men aged 14 to 59 years between 2000 and 2010, the rate of neonatal circumcisions declined from 83% in the 1960s to 77% by 2010, after the researchers corrected for under reporting.
Reasons for the decline include demographic changes, most notably the increase in the proportion of Hispanic people (traditionally noncircumcising) in Western states and the withdrawal of Medicaid coverage in 18 states.
Neonatal male circumcision was also cost-effective for disease prevention, the researchers found. Cost estimates from one study suggested that each forgone infant circumcision procedure would lead to an average of $407 in increased direct medical expenses per male and $43 per female.
Furthermore, if circumcision levels fell to the 10% rate observed in Europe additional direct medical costs in infancy and later treatment costs among 10 annual birth cohorts would exceed $4.4 billion, even after accounting for the cost of the procedure (average cost, $291) and treatment of complications (average cost, $185 each; prevalence, 0.4%).
"The affirmative (circumcision) policy of the American Academy of Pediatrics should logically result in an increase in infant circumcisions in the United States and in reintroduction of access to Medicaid funding for poor families," the researchers concluded. "We predict that future CDC surveys will find significant ongoing increases in the prevalence of circumcision in the United States."