November 13, 2014
Omega-3 supplementation cuts tobacco dependence
Increasing omega-3 PUFA concentrations reduced cigarette cravings even after intervention.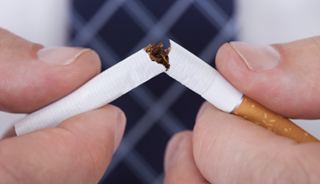 Omega-3 supplementation cuts tobacco dependence
HealthDay News -- Omega-3 polyunsaturated fatty acid (PUFA) supplements can reduce daily smoking and tobacco craving, according to researchers.
Low concentrations of PUFAs have been linked to reduced psychological health and ability to cope with stress.
"Although stress is well linked to smoking urges and behavior, no research to date has examined the effects of PUFA supplementation on tobacco craving," explained Sharon Rabinovitz, MD, from the University of Haifa in Israel.
To examine the effect of PUFA supplementation on tobacco craving, Rabinovitz administered 2,710 mg eicosapentaenoic acid per day and 2,040 mg docosahexaenoic acid/day for one month in 48 regular cigarette smokers.
PUFA supplementation for one month correlated with a significant reduction in reported daily smoking and in tobacco craving following cigarette cue exposure. In the month following treatment discontinuation, craving did not return to baseline values.
"This is the first study demonstrating that omega-3 PUFA supplementation reduces tobacco craving in regular smokers, compared to placebo treatment," wrote Rabinovitz.
"Thus, omega-3 PUFAs may be of benefit in managing tobacco consumption. Further studies are needed on larger samples to explore the possible therapeutic implications for heavy cigarette smokers."
References
Disclosures: Solgar Vitamin and Herb Company donated the omega-3 capsules used in the study.