January 27, 2016
House calls from PAs reduce hospital readmissions after cardiac surgery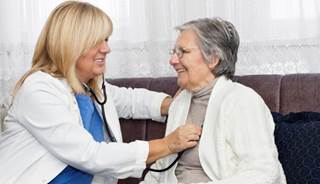 Two home visits by a PA following cardiac surgery can reduce hospital readmission rates.
Physician assistant home care (PAHC) programs that provide house calls can reduce the rate of hospital readmissions after cardiac surgery, according to a study presented at the 52nd Annual Meeting of the Society of Thoracic Surgeons.
During a 30-day follow-up period, the PAHC program reduced hospital readmission rates by 41%, compared with patients who did not participate in this program. In addition, a cost analysis found that PAHC programs saved $39 for every $1 spent.
The study included adult patients who underwent cardiac surgery between September 2008 and August 2012. The control group was composed of patients who underwent cardiac surgery before PAHC programs were instated.
The researchers analyzed data from 1,185 patients during the study period who were discharged directly home after surgery. In the control group (n=648), 101 (16%) were readmitted to the hospital. In the PAHC group in which patients were visited by PAs on days 2 and 5 after surgery (n=537), 54 (10%) patients were readmitted, a 41% reduction compared with the control group.
The average hospital bill for patients who were readmitted to the hospital was $39,100 in the control group and $56,600 in the PAHC group. The PAHC program, which costs $12,500 annually, saved $977,500 in readmission costs.
"It is essential for patients to comply with all prescribed medications and physical rehabilitation after heart surgery, and two house calls in the first week after discharge helped patients remain focused on these goals," said John P. Nabagiez, MD, lead study author. "Complications can arise in the first week after surgery, and these initial home visits can help diagnose problems earlier, which can keep patients out of the emergency department. We found that making these two visits is cost effective and keeps patients on the road to recovery, while also reducing hospital readmissions."
Reference
Nabagiez JP, Shariff MA, Molloy WJ, et al. Cost analysis of a physician assistant home visit program to reduce readmissions following cardiac surgery. Presented at the 52nd Annual Meeting of the Society of Thoracic Surgeons; January 23-27, 2016; Phoenix, Ariz.