November 05, 2014
Recommendations for improved COPD intervention adherence
the Clinical Advisor take:
Patients with chronic obstructive pulmonary disease (COPD) need more self-management support and delivery system design in order to improve adherence to non-pharmacological treatment interventions, according to a study published in the International Journal of Chronic Obstructive Pulmonary Disease.
Lead researcher Samantha L. Harrison, MSc, of the West Park Healthcare Centre in Toronto, and colleagues made the following recommendations to improve patient adherence: 1) patients need more psychological support, 2) health care professionals need more education and skills training, and 3) more follow-up is needed to reinforce information about interventions.
Guidelines for managing COPD following an acute exacerbation have been well established, and include both pharmacological and non-pharmacological interventions. Following non-pharmacological interventions has been associated with reduced hospital readmission, but there are often issues surrounding patient adherence.
The researchers centered their report around the chronic care model (CCM), a framework for managing chronic diseases that focus on health system-to community linkages, self-management support, delivery system design, decision support, and clinical information systems. Implementing two or more of these components has been effective in reducing health care utilization in patients with COPD.
The researchers reviewed evidence on different self-management strategies to determine which ones are most effective in improving intervention adherence. They found that many patients had issues with self-management support and delivery system design, and based their recommendations around improving these components.
They determined three main areas that can improve patient adherence. First, patients' psychological status should be routinely assessed after an acute exacerbation of COPD. Second, health care professionals should have more training in the delivery of self-management skills and should be given adequate time to explain the information to patients. Third, more follow-up is needed after an acute exacerbation in order to reinforce intervention information.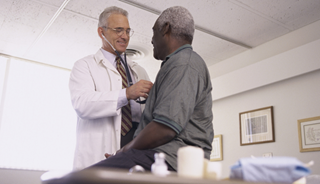 New recs issued to improve treatment adherence in patients with COPD
Though the guidelines for the optimal management of chronic obstructive pulmonary disease (COPD) following an acute exacerbation (AE) are well established, issues associated with poor adherence to nonpharmacological interventions such as self-management advice and pulmonary rehabilitation will impact on hospital readmission rates and health care costs.
Systems developed for clinically stable patients with COPD may not be sufficient for those who are post-exacerbation. A redesign of the manner in which such interventions are delivered to patients following an AECOPD is necessary.
Next Article in Web Exclusives