March 11, 2013
Researchers doubt accuracy of red flags to detect spinal malignancy
This article originally appeared
here.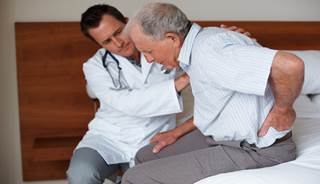 Researchers Doubt Accuracy of Red Flags to Detect Spinal Malignancy
(HealthDay News) -- Researchers have doubts as to the diagnostic accuracy or usefulness of red flag indicators to detect or exclude spinal malignancy in patients with low back pain (LBP), according to research published online Feb. 28 in The Cochrane Library.
Nicholas Henschke, MD, of the University of Heidelberg in Germany, and colleagues performed a systematic review of the literature and meta-analysis to identify eight cohort studies in an effort to learn more about the diagnostic accuracy of using red flags to screen for malignancy in patients with LBP.
Six studies, involving 6,622 patients, were performed in the primary care setting; one study, involving 482 patients, was conducted in an accident and emergency setting; and one study, involving 257 patients, took place in a secondary care setting. The prevalence of spinal malignancy in the primary care setting studies ranged from 0 to 0.66 percent. Although there was some evidence in support of using a patient history of cancer as a potential red flag, most others, including age over 50 years, insidious onset, no relief with bed rest, unexplained weight loss, and failure to improve after one month, were associated with a high false-positive rate.
"For most 'red flags,' there is insufficient evidence to provide recommendations regarding their diagnostic accuracy or usefulness for detecting spinal malignancy," the authors write. "The available evidence indicates that in patients with LBP, an indication of spinal malignancy should not be based on the results of one single 'red flag' question."
Abstract
Full Text (subscription or payment may be required)